BUSHELLS Blue Label Tea 3 kg carton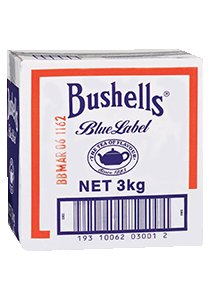 BUSHELLS Blue Label Tea 3 kg carton
Black tea.
Article number:

62052008

•
All product information
Usage information
Preparation
Bring fresh cold water to the boil. Preheat your tea pot by rinsing with hot water. Place one teaspoon per person into the pot (An extra teaspoon for stronger tea). Pour fresh boiling water over the tea. Allow to infuse for just 3-5 minutes to bring out its full, delicious flavour. (Tea becomes stewed if left in the pot for longer periods.)
Storage
Store in a cool dry place.