CONTINENTAL Professional Chicken and Corn Soup 1.8 kg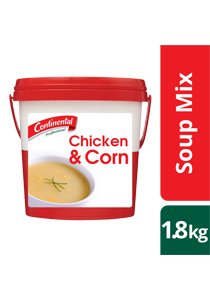 CONTINENTAL Professional Chicken and Corn Soup 1.8 kg
Flavoured soup mix. A delicious combination of corn and chicken flavours with a smooth, creamy texture. Every product in the CONTINENTAL Professional Soup range has been specifically designed for the needs of food service professionals. The range provides high quality soups whilst ensuring maximum yields and no wastage.
More Product Information
Article number:

20206542

•
All product information
Benefits & Allergen Information
Bain Marie Stable

No Added MSG

Gluten Free
Nutrition Information
Download product information..
Typical values
Energy, including dietary fibre (kJ)
Carbohydrate, total (g)
Sodium (mg)
Protein (g)
Cholesterol (mg)
Dietary Fibre (g)
Fat, total (g)
Saturated fatty acids, total (g)
Monounsaturated fatty acids, total (g)
Polyunsaturated fatty acids, total (g)
Calcium (mg)
Iron (mg)
Preformed Vitamin A (retinol) (ug)
Vitamin C (mg)
Additional Benefits
Bain Marie Stable
No Added MSG
Gluten Free