CONTINENTAL Professional Gluten Free Beef & Vegetable Soup Mix 1.9kg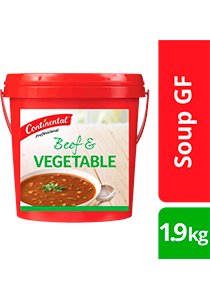 Preparation
Place the hot water in a large pot and whisk in the Continental Soup Mix. Bring to the boil while stirring continuously, then simmer for 10 minutes. Prevent cross-contamination with gluten during preparation to ensure gluten-free meal.
Yield
Servings per package - 128. Serving size - 170 ml.
Storage
Replace lid tightly. Store in a cool, dry place. Contents may settle in transit.
Additional Benefits
Quick and Easy To Use
Bain Marie Stable
A Versatile Base For Many Dishes
No Added MSG
Cook Chill Stable
12-24 Months Shelf Life
Gluten Free
Description
The CONTINENTAL Professional Beef & Vegetable GF soup mix is made with real vegetables (potato, onion, green peas, carrot, green beans). It creates a hearty and homestyle taste. Every product in the Soup range has been specifically designed for the needs of food service professionals.
Download product information..