HELLMANN'S Tartare Sauce 2.6 kg/2.55 L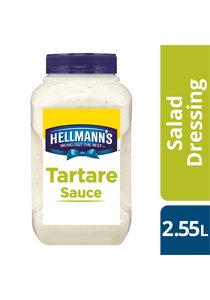 HELLMANN'S Tartare Sauce 2.6 kg/2.55 L
Pourable Dressing, multiple uses. A rich creamy Tartare Sauce with the perfect blend of gherkins, capers and parsley. HELLMANN'S Tartare Sauce is a mouthwatering accompaniment to your favourite seafood dishes.
More Product Information
Article number:

61039250

•
All product information
Benefits & Allergen Information
No Added MSG

No Artificial Flavours

No Artificial Colours
Nutrition Information
Download product information..
Typical Values
Energy, including dietary fibre (kJ)
Carbohydrate, total (g)
Sodium (mg)
Protein (g)
Cholesterol (mg)
Dietary Fibre (g)
Fat, total (g)
Saturated fatty acids, total (g)
Polyunsaturated fatty acids, total (g)
Calcium (mg)
Iron (mg)
Preformed Vitamin A (retinol) (ug)
Vitamin C (mg)