KNORR Beef Booster 2.4 kg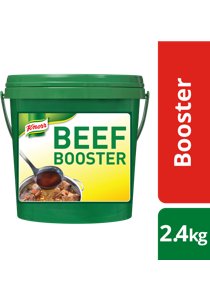 KNORR Beef Booster 2.4 kg
KNORR Boosters have been awarded Australia's Best Booster brand by a ChefPanel survey of 600 Independent Chefs (2016). Use KNORR Boosters to create full flavoured bases and the tastiest sauces. Delivering perfect results every time for your: bouillons, soups, sauces, casseroles, gravies, pies. Made by chefs, exclusively for chefs.
More Product Information
Article number:

61043240

•
All product information
Benefits & Allergen Information
No Added MSG

Gluten Free
Nutrition Information
Download product information..
Typical Values
Energy, including dietary fibre (kJ)
Carbohydrate, total (g)
Sodium (mg)
Protein (g)
Cholesterol (mg)
Dietary Fibre (g)
Fat, total (g)
Saturated fatty acids, total (g)
Polyunsaturated fatty acids, total (g)
Calcium (mg)
Iron (mg)
Preformed Vitamin A (retinol) (ug)
Vitamin C (mg)