KNORR Rich Brown Gravy 7.5 kg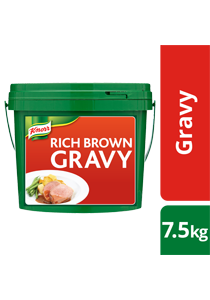 Preparation
Use as a rich gravy to enhance flavour of meat dishes. Whisk 100 g KNORR sauce mix into 1 L of hot water. Place on the stove and bring to the boil, stirring continuously. Reduce heat and simmer for a further 2 minutes.
Storage
Replace lid tightly. Store in a cool, dry place. Contents may settle in transit.
Benefits
In Powder format. Dissolves Instantly.
Description
Powdered sauce mix for Rich Brown Gravy. Delivers perfect results every time for your: pour over sauces, casseroles, pies etc
Download product information..