LIPTON Yellow Label Gold Envelope Cup Bags 500's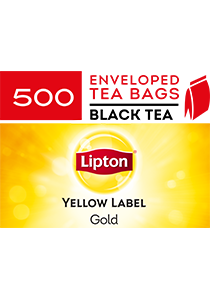 LIPTON Yellow Label Gold Envelope Cup Bags 500's
How this product will help you
Discover the flavor of LIPTON Yellow Label Gold Tea made with sun ripened tea leaves.
With 2 grams of tea in a bag, this makes for a strong, rich cup of tea perfect with milk.
100% sustainably sourced tea leaves from Rainforest Alliance Certified Farms.
This product comes in foil sealed fresh pack envelopes locking in the aroma. Ideal for medium and large sized offices.
More Product Information
Article number:

67062440

•
All product information
Benefits & Allergen Information
Halal Certified
Key product information
Description
Filled to the brim with awakening taste, start your morning with a hot drink of Lipton Yellow Label Tea Bags. A sunny sip to awaken you to the wonders that the world has to offer. That's what we mean by live awake. Our Master Blenders have crafted a delicious blend that includes carefully selected and fresh-pressed tea leaves, capturing as much natural quality taste as possible. We believe Tea makers lives matter. They make a big difference and that is why we are in partnership with Rainforest Alliance. Together we've already trained over 500,000 farmers in Kenya. We are committed to helping our team of farmers create a better life for themselves, their families and their communities.

Download product information..
Packaging
1 x 500 tea bags
Usage information
Preparation
Place one tea bag for each person in a cup or pot. Pour fresh boiling water. Allow to infuse for 2-3 minutes. Add milk, sugar or honey as desired.
Yield
Weight - 1000 g. Weight per serving/portion - 2 g.
Benefits
100% Rainforest Alliance Certified Tea.
Storage
Store in a cool, dry place.