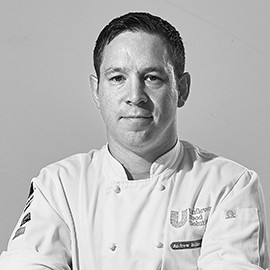 I've worked in the foodservice industry for 18 years, starting out like so many as a teenaged kitchenhand at a local restaurant. Before joining UFS in 2015, I worked in both small and large establishments - from pubs and clubs, large catering groups, and fine dining. I've also consulted with many highly regarded cookbooks and have presented and judged at renowned food shows, including the acclaimed Sydney Royal Fine Foods Show.
I believe that practical industry experience is what helps my team and I understand the real challenges Chefs face every day, because we've been there. It's this experience that helps us develop brilliant products and solutions at UFS. We know they have work at all levels in all kitchens, big and small. They need to be consistent, but still have the flexibility to let Chefs make the dish their own. It's a great challenge, and is really rewarding. I love it.
In my spare time I enjoy sport, spending time with my kids and hunting for the best Australian wines I can find.