Our commitment to sustainable packaging
As a consumer goods company, we have a clear responsibility to play our part. We are among a growing number of brands, retailers and packaging companies to make sustainable packaging commitments.
But more needs to be done to make reusable, recyclable and compostable plastic normal. And we need your help too!
Unilever Food Solutions products have different instructions about recycling and handling after use. The following downloadable guide will provide users instructions about how to handle different components of each pack. Instructions for our full range is currently being developed, and this guide will be updated regularly as we complete the process.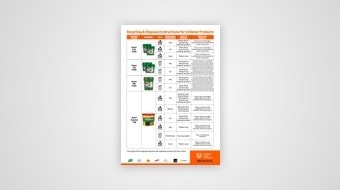 Instructions for how to recycle or responsibly dispose of our packaging can be found here.
Download now