Updated on Tuesday, 16th June, 2020
Food is your business, but how much of it do you throw away? Whenever you've scraped leftovers from a customer's plate, tossed food that's spoiled or swept your meat and vegie trimmings into the bin you've thrown money away. Working small changes can make a difference when it comes to reducing food waste.
A focus on food waste can push your Chef and kitchen team to improve systems, ignite staff with a passion for the environment and improve your bottom line. How? Read on.

Research shows that there are three types of food waste in commercial kitchens.

The food we waste when we're preparing food.
The food that gets chucked because we haven't stored it well.
The food we scrape from a customer's plates into the bin.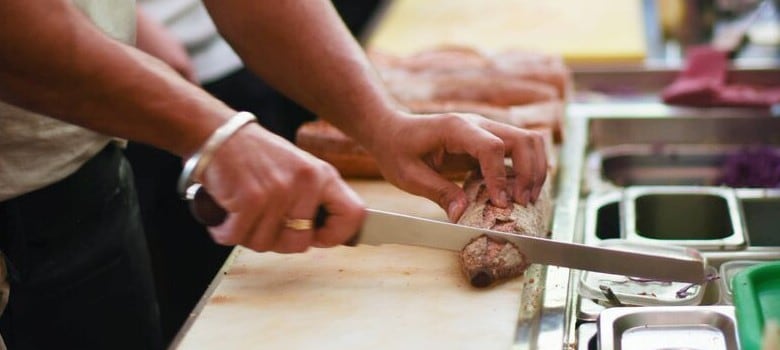 Some of the most effective ways to avoid waste is with a water-tight menu design, kick-ass ordering system and spot-on portion size and you won't need to deal with spoilage, off-cuts or uneaten food down the track. 
Here are three easy steps to implement waste avoidance strategies.
Go all out when you're planning your menu and write it out in all its delicious glory. Then, ask yourself what trim, left-overs or waste the menu will produce and how you can put it back into the menu. For instance, if you're using egg yolk in a hollandaise, what dish can you put on the menu that will use the whites? What about the outer leaves of lettuce, commonly thrown away? Or meat trim? Or vegetable peel? Or fish bones? Creative thinking can take an ingredient from waste to wonderful.

You've come up with a brilliant new dish for the menu. It ticks all the boxes: taste, looks and cost. You've plated serves for the kitchen and front of house teams to taste. Everybody loves it. But, before you add the dish to the menu, plate it up as you would for a customer and sit down and eat it. That way you'll know if the serve is too big. Too small. Or just right. Get the portion size right and less food will come back to the kitchen and end up in the bin.

Do the math and you'll soon find yourself making every bit of food trim work hard. Vegie peelings and scraps can be blitzed to create dressings for salads or roasted and chopped for soup. Top and tail an apple and use the trim to make apple sauce. Top and tail a tomato and turn trim into a relish that anoints the house burger. Think about it, there can be as much as a kilogram of trim in every 10kg box of tomatoes. It's far better that it stays in your business than in the bin.

#lovefoodhatewaste
Are you serious about targeting food waste in your kitchen? The NSW EPA 'Your Business is Food' program has been designed to specifically target the problem and is composed of a waste review – you work out how much you're wasting and where, and simple to implement strategies for change. Download your copy and follow the steps to reduce food waste by more than 20 per cent. 

Download now