Updated on Wednesday, 16ᵗʰ November, 2022
A pinch of salt. A scoop of cream. A drizzle of oil. As a food professional, you're aware of how the smallest touches can make a dish go from good to great.

And it's just the same with the rest of your café. It is the little things that keep customers coming back.
Here are a few ideas on how you can make your café much more memorable: 
Look after the little ones
Bored, hungry kids are much more likely to disrupt other diners. Make it easy for parents by serving their kids' meals first. If possible, set aside a separate play area with toys. If you don't have room, paper and crayons will do just fine. Some cafés even offer iPads with a child friendly apps to keep tiny tots occupied.
Kids love a treat, so don't skimp on the marshmallows! If a child feels special they will probably pester their parents to come back.
Keep them connected with free Wi-Fi 
Your café is an office and meeting room for a lot of your customers. It can also be a place for travellers to stop, grab a bite and connect with their families. Or a stopover for friends while they plan a big night out.
Free Wi-Fi is an amazing drawcard, so if you can afford to offer it, great! But to avoid freeloaders biting into your bandwidth, give your password a change every week. This way customers will have to approach the counter to connect to your Wi-Fi. It's the perfect time to tempt them with a muffin or coffee while they wait to get connected.
Make them feel special
Create a promotion to capture your customer's name, email address and birthday. Use an online customer management tool to send them a birthday message and a voucher for free coffee on their special day.
The cost to you is minimal but it's a nice little touch that will show them you care.
Give them the option to order ahead
There are a bunch of apps on the market that give customers the ability to order ahead and pick-up their coffees when they arrive. Check out Beat The Q or TXT4Coffee. This will improve your efficiency and reduce the number of people standing around waiting for their orders in the morning.
Serve them with a smile!
In 2015, a British Software company surveyed over 3,000 people and found that over 50% couldn't remember the last time they experienced good customer service. It's a sad statistic but it means it's an opportunity for your café to stand out from the crowd. And all it takes is a smile!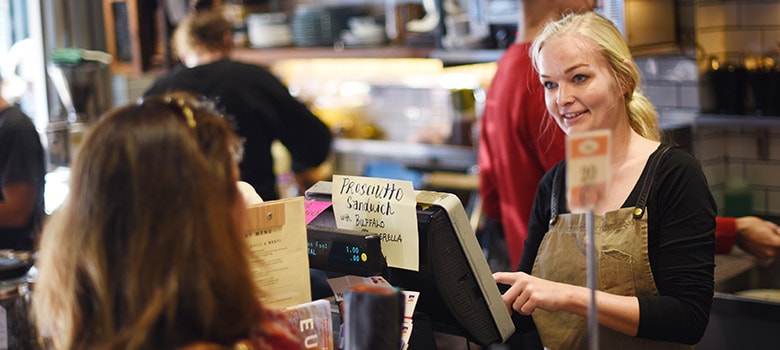 The thing about a smile is that it is the cheapest added extra! It will build your customer base and bring you business through the most effective and inexpensive advertising medium – word of mouth.