This modern Mexican taco combines roasted prawns, tomato salsa, avocado, and spicy chipotle mayonnaise- Ideal as a shared snack or a stand alone meal.
Viva Mexico! This recipe uses with pork and grilled pineapple, and is inspired by the Mexico City original called 'tacos al pastor', which is a fusion of Mexican, Caribbean, and Middle Eastern flavours.

Sweet sweet Taco, I love you so, let me eat you in one go. OK the rhyme is lame but Tacos are my game. Oh Stop already. Just make Taco's and be happy! 

Re-invent your nachos with this American inspired twist. Potato, buckwheat waffles, bacon, roast chicken and avocado topped with Mexicasa sauce.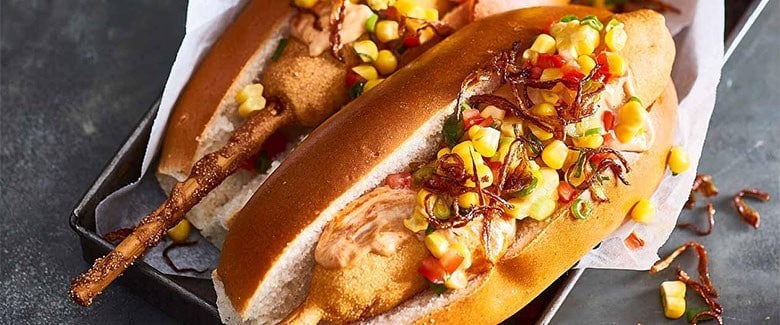 This is not just your average hot dog. It's the king of dawgs! Two iconic American favourites smashed into one, for an explosive, mouth-watering culture clash. Perfect, authentic bar food for the flavour-starved masses.