Posted on Wednesday, 7ᵗʰ April, 2021
With continuing softness in retail trading conditions and an uncertain short-term outlook for restaurants and cafés, Trends on Plate takes a look at some practical ways venues can maximise the efficiency of their kitchens.
Running a lean and efficient kitchen isn't nearly as exciting as introducing a successful new dish to your menu, but it could be the difference between keeping your head above water or struggling to make ends meet.
Setting aside time to plan, review and adapt has always been good practice but, with the dining landscape currently subject to frequent change, it might be wise to conduct a more regular evaluation of your kitchen operations over the next 12 months to improve kitchen performance.
In particular, here are some areas to focus on to make certain your kitchen is really humming: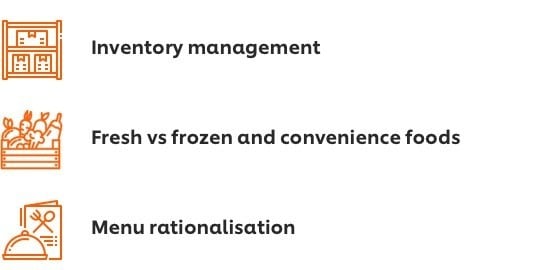 Let's explore each one in more detail.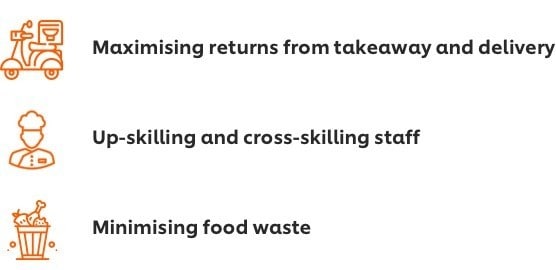 Suffice to say, tight inventory management is vital right now. But let's not mince words; it's also hugely challenging. Disrupted supply chains and a cautious return to in-venue dining mean inventory can be somewhat of a guessing game.
Automated systems, such as a fully integrated POS, are helpful with analysing ingredient demand but nothing beats a manual assessment of inventory by a staff member who understands the way your kitchen operates. Even the best POS system cannot account for spillages, spoilage, theft and returns.
Rigorously employ the first in, first out method of ingredient use, where fresh and perishable food is clearly labelled with expiry dates and the oldest ingredients are put at the front of the refrigerator or store, so they're used first.
Taking a disciplined approach to inventory will also allow your kitchen to prepare special dishes that use excess ingredients before they go to waste.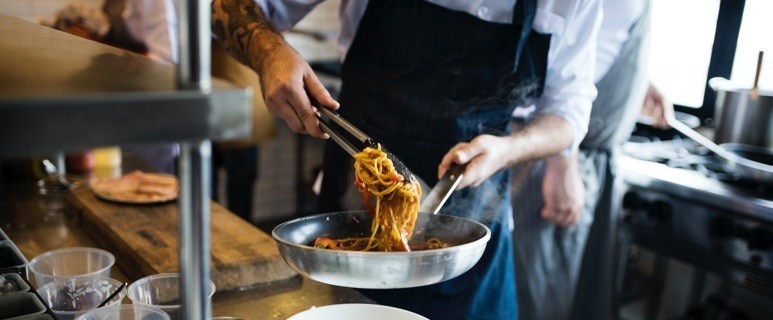 Clever kitchens are seeking out ingredients that offer maximum versatility to improve kitchen efficiency.
The question chefs need to ask themselves is: what do I really need my kitchen staff to be doing and what can I easily replace with a convenience product? When used sensibly, frozen and pre-prepared ingredients can offer outstanding menu support.
Not only can these products save valuable preparation time, but they can also assist kitchens to provide consistency in taste, texture and presentation. Better still, exact portions can be used while the remainder is safely stored in the freezer or pantry until it's next called upon.
Another significant benefit of frozen and other convenience ingredients is their stable cost, allowing venues to avoid highly variable market pricing and confidently run with a menu that won't wildly vary in cost.


Venues are turning their backs on bloated menus, choosing to strip their offer back to focus on core dishes.
There are many benefits to a streamlined offer. Holding an item that is ordered occasionally can be costly in terms of inventory, especially in an unpredictable environment. Plus, a focused menu can be engineered for maximum profitability. And, importantly, for any business that has endured staff turnover, a simplified menu can be more straightforward for new staff or a smaller crew to execute.
If you're not sure where to start when it comes to streamlining your food offer, we've created a useful guide that shows you how to use point-of-sale data to engineer a more profitable menu for the post-COVID world.

Takeaway and delivery as a significant source of sales is here to stay, so it's important to maximise your efficiencies in this space.
Specific actions you can take right now include working through your mark-up policies, making good choices around cost-effective packaging that works for your particular dishes and reviewing your menu to make food preparation easy for either in- or out-of-venue consumption.
If your back of house is a hotbed of chaos during peak times as it tries valiantly to service the differing needs of in- and out-of-venue diners, look into a kitchen display system (KDS). For takeaway and delivery customers, a KDS can provide the convenience of real-time order tracking that matches up with your kitchen's capacity and doesn't adversely impact upon meal fulfilment for in-house diners.
A KDS can also make dietary-based requests easier to manage and provide your wait staff with reliable information to pass onto diners.

Staff with multiple skills are worth more to your kitchen now than they've ever been. Data from IBISWorld suggested many as 400,000 people may have left our industry as the pandemic took hold and work became unstable.
Many of these people will never return and their talent will be hard to replace. Making the effort to up-skill and cross-skill your current kitchen staff should help to insulate your venue against the talent drain.
For example, on a quiet night at your venue, there is great benefit in having a single staff member who can both tend the grill and plate up.
Not only does your kitchen run more efficiently with multi-skilled staff but those staff members also appreciate your investment in them. The net result should be a reduced staff turnover, which is a terrific outcome for kitchens right now.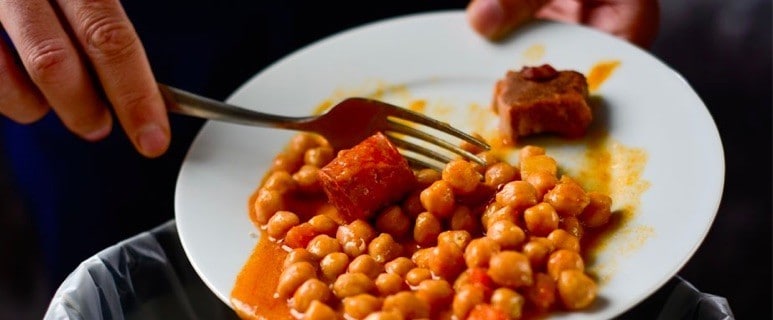 In an uncertain environment, your best efforts to minimise food waste during kitchen operations may not always be enough. If your kitchen is occasionally left with surplus food, there are ways you can put that food to work.
Firstly, consider donating meals or selling them at a reduced cost through an app such as Y Waste, which connects kitchens that have excess food with people who live with food insecurity. Designed to work with charities but minimise the load on volunteers, Y Waste is a great way to keep food from being thrown out while also earning your venue points for corporate social responsibility.
A second solution is the community compositing initiative, ShareWaste. Also an app-based platform, ShareWaste connects those who have food waste with those who seek it.
Its aim is to encourage people to see their organic waste as a valuable resource and help them turn that waste into new soil and fertiliser by putting them in touch with members of the community who can make good use of it.