HELLMANN'S Deli Mayonnaise 10kg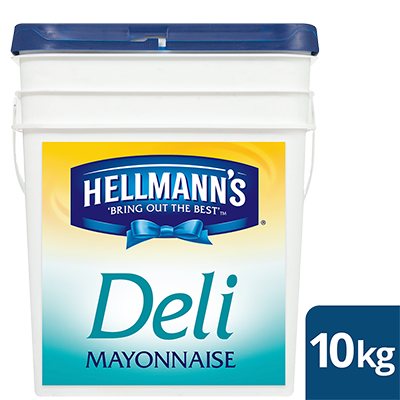 HELLMANN'S Deli Mayonnaise 10kg
How does this help you
Consistent sweet and tangy taste in every bite at an affordable price
With a rich and creamy texture, this allows you to spread your mayonnaise further
Keeps sandwiches fresher for longer
Provides moisture barrier for breads and fillings, keeps the bread from getting soggy
More Product Information
Article number:

67109264

•
---
I want the tastiest mayo at the right price.
HELLMANN'S Deli Mayonnaise lets you deliver a sweet and tangy taste in every bite consistently at an affordable price.
How does this help you
Consistent sweet and tangy taste in every bite at an affordable price
With a rich and creamy texture, this allows you to spread your mayonnaise further
Keeps sandwiches fresher for longer
Provides moisture barrier for breads and fillings, keeps the bread from getting soggy
TASTE & TEXTURE PREFERRED BY CHEFS VS OTHER ECONOMY MAYOS*
---
All product information
Benefits & Allergen Information
Taste and Texture preferred by Chefs Vs other economy mayos

Halal Certified
Ingredients
Water, soybean oil, sugar, thickener (1442), vinegar, iodised salt, egg yolk, acidity regulator (270), preservatives ( 202, 385), natural mustard flavour, stabilizer (415), colour (160a).
Nutrition Information
Download product information..
*Catalyst Research, blind chef taste test/survey of mainstream commercial economy mayonnaise brands in Australia, n=140 (2017).
Key product information
Description
The HELLMANN'S Deli Mayo – developed specifically for those who needs to deliver the best tasting sandwiches at the best possible price. And because it from HELLMANN'S – the World's #1 Mayonnaise – we guarantee it's good. We're so confident that you'll love the sweet & tangy taste and its rich & creamy texture, we are offering a "Money back guarantee". It can be used for sandwiches, wraps, burgers, salads, potato salads, coleslaw, dipping base for sauces.
Usage information
Yield
Weight - 10 kg. Weight per serving/portion - 20 g.
Benefits
Made by HELLMANN'S, the HELLMANN'S Deli Mayo delivers a consistent sweet and tangy taste, especially made to enhance the taste experience of sandwiches in an affordable price. Rich and creamy texture that keeps bread fresher for longer. Ideal for spreading as it spreads evenly and easily, and keeps the bread from getting soggy.
Storage
Refrigerate after opening.
Note: Please refer to product labels for the most up-to-date product information