KNORR Demi Glace Gluten Free 6kg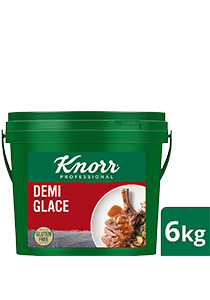 KNORR Demi Glace Gluten Free 6kg
How this product will help you
A gluten free, decadent sauce with roasted beef and red wine notes that differentiates and elevates dish flavours for a signature touch.
Delivers a rich and smooth texture that enhances dish appeal.
Especially suitable for premium cuts and dishes.
More Product Information
Article number:

67919333

•
All product information
Benefits & Allergen Information
KNORR Gluten Free

KNORR Cook Chill Stable

KNORR Bain Marie Stable

KNORR Freeze Thaw Stable
Nutrition Information
Download product information..
Typical Values
Energy, including dietary fibre (kJ)
Carbohydrate, total (g)
Sodium (mg)
Protein (g)
Cholesterol (mg)
Dietary Fibre (g)
Fat, total (g)
Saturated fatty acids, total (g)
Polyunsaturated fatty acids, total (g)
Calcium (mg)
Iron (mg)
Preformed Vitamin A (retinol) (ug)
Vitamin C (mg)