Snapper Cheese Burger with Salt and Vinegar Onion Rings
An American style double cheese burger with a twist, using moist tender snapper fillets and the interesting addition of crispy 'salt and vinegar' onion rings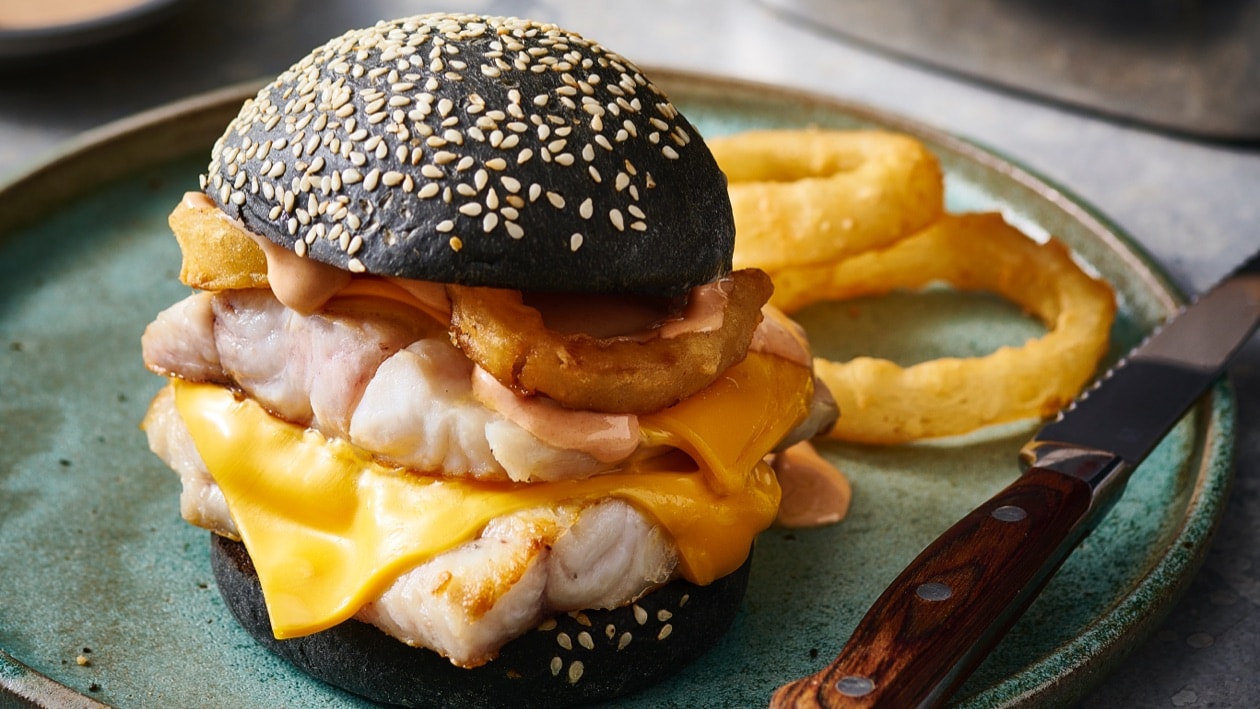 Ingredients per serve
Snapper Cheese Burger with Salt and Vinegar Onion Rings
Mayonnaise
HELLMANN'S Real Mayonnaise 2.4 kg
/g
300.0 g
0%
KNORR American Chipotle BBQ Sauce GF 2.1kg
/g
200.0 g
0%
Onion rings
Malt Vinegar
/ml
200.0 ml
0%
Self raising flour
/g
350.0 g
0%
Chilled water
/ml
500.0 ml
0%
To assemble
American style cheese slices
/x
20.0 x
0%
Mayonnaise
Onion rings
Self raising flour

350.0 g
To assemble
American style cheese slices

20.0 x
Preparation
Mayonnaise

Mix together HELLMANN'S Real Mayonnaise with KNORR American Chipotle BBQ Sauce until fully combined. Set aside.

Onion rings

Combine vinegar with 400 ml warm water and sugar. Stir until sugar dissolves. Cut onion into 1 cm thick slices. Separate into rings. Place in a bowl with vinegar mix and stand for 1 hour.
To make the batter whisk together flour with chilled water until smooth. Season.
Drain onions well from vinegar. Dust in a little flour then dip in batter. Deep fry at 180 degree Celsius until onion is cooked through and batter is golden. Drain and sprinkle liberally with salt.

To assemble

Grill or pan fry snapper until cooked through. Place cheese slices on each fillet and let the heat of the fish melt the cheese.
Spread half the mayonnaise mixture over the base of toasted burger buns. Layer with fish, cheese, salt and vinegar onion rings and remaining mayonnaise mix.

Tip

For something a little different use charcoal brioche buns. Available packaged in most supermarkets and delis, if unavailable use regular brioche buns or soft rolls.