Baked Salmon Sides with Salsa Verde
The fresh and tangy flavour of salsa verde compliments seafood perfectly and it's used to the full in this dish, with a herby filling between sides of whole salmon and in the accompanying sauce.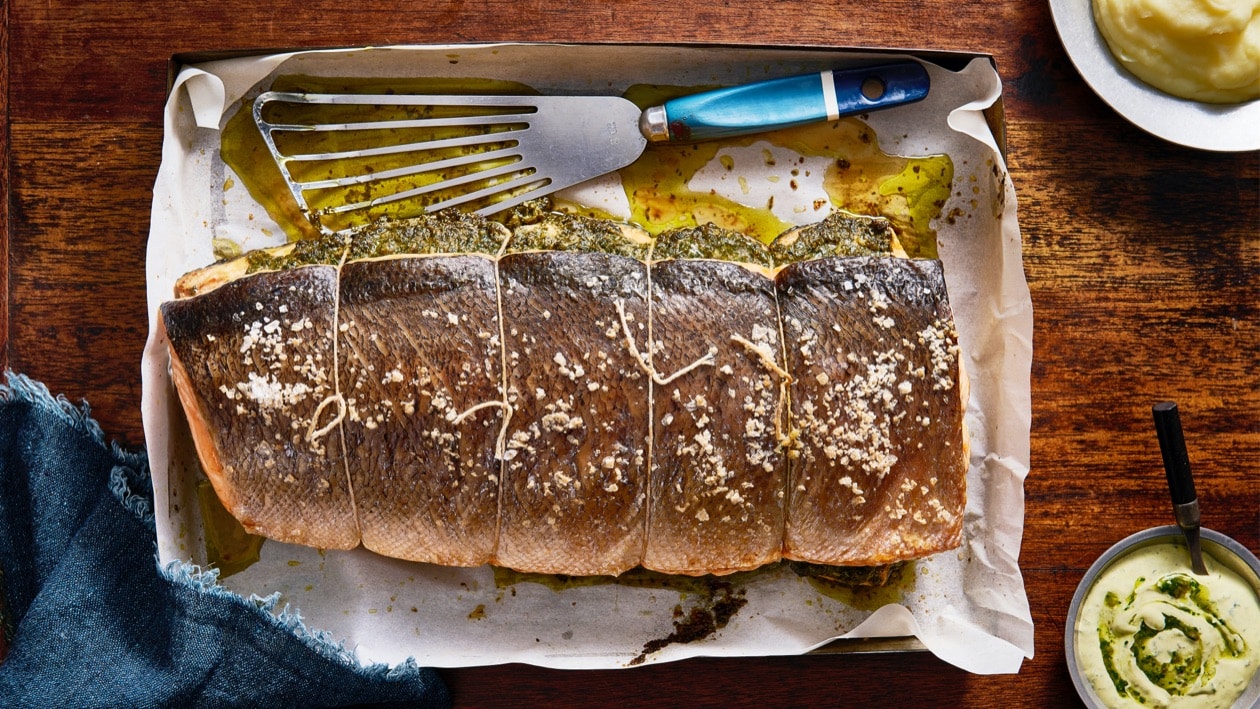 Ingredients per serve
Baked Salmon Sides with Salsa Verde
Salsa verde
Flat-leaf parsley
/g
50.0 g
0%
Capers, drained
/g
20.0 g
0%
Salmon
Salmon Fillet Skin on
/x
2.0 x
0%
Potato mash
Cold milk
/ml
250.0 ml
0%
KNORR Potato Flakes GF 4kg
/g
125.0 g
0%
Step 4
KNORR Hollandaise Gluten Free Sauce 1 L
/ml
400.0 ml
0%
KNORR Intense Flavours Citrus Fresh 400 ml
/ml
10.0 ml
0%
Salsa verde
Salmon
Salmon Fillet Skin on

2.0 x
Potato mash
Step 4
Preparation
Salsa verde

Place herbs and garlic in a food processor and process until roughly chopped. Add lemon juice and pour olive oil in a steady stream and continue to process until fully combined.

Salmon

Lie lengths of cooking twine on a large lined baking tray. Place one fillet of salmon skin-side down on top of the twine. Spoon over most of the salsa verde. Top with other fillet and truss up with twine. Rub with oil and sea salt. 
Bake in a combi oven at 180 degree Celsius for 25 minutes or until done to liking.

Potato mash

Bring 500 ml water to the boil. Remove from heat and add milk and salt. Whisk in KNORR Potato Flakes until combined. Let stand for 2-3 minutes then whisk again.

Step 4

Combine KNORR Hollandaise Sauce with KNORR Intensive Flavours Citrus Fresh. Fold through remaining salsa verde. Slice salmon into portions and serve with potato mash and salsa verde hollandaise.

Tip

Cover salsa verde with a layer of olive oil and keep refrigerated for up to 2 weeks.