Canadian Burger, Beer Braised Onions
Using KNORR Potato Flake gives a light, tender and moist texture to this burger bun. Matched with the rich meaty taste of Angus beef this is sure to be popular.
Casual Dining
Beef
Main Meals
American
Burgers & Hot Dogs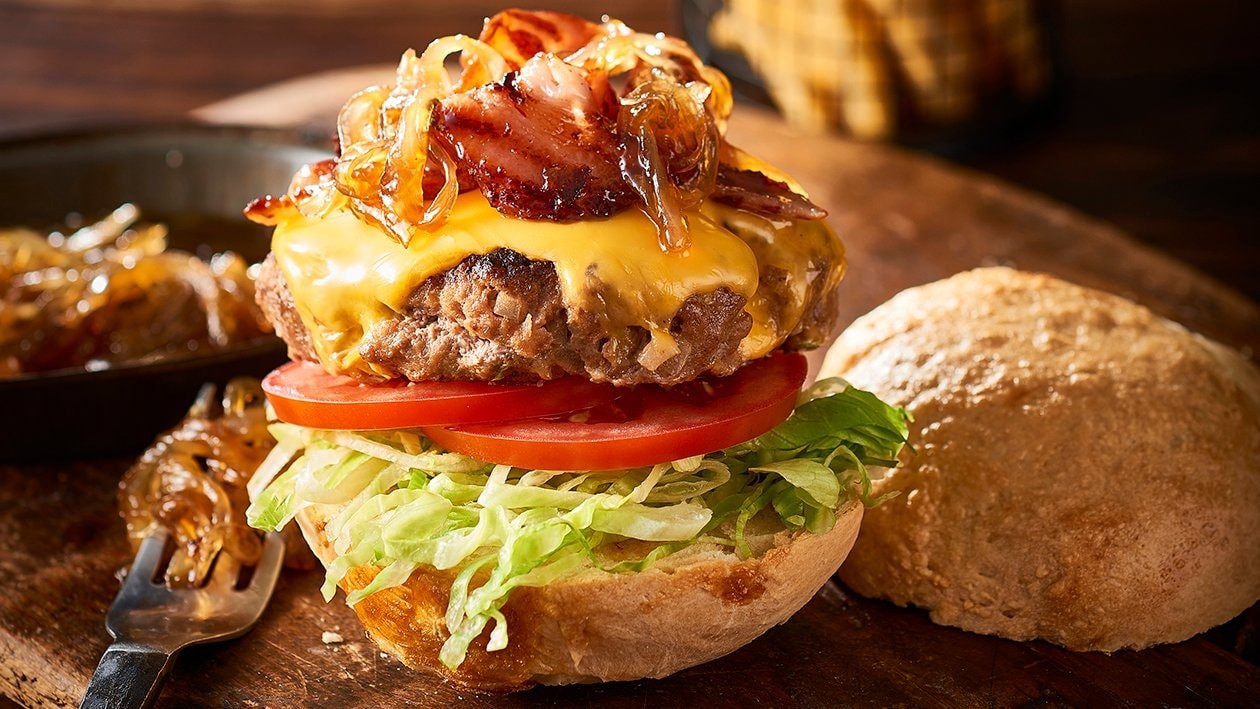 Ingredients per serve
Burger Bun
All-purpose flour

255.0 g

Non-fat milk powder

35.0 g

Unsalted butter, melted

60.0 g
Braised Onions
Brown onions, thinly sliced

200.0 g
Meat Patties
Brown onion, diced

40.0 g

Cheddar Cheese Slices

500.0 g
To Assemble
Potato Burger Buns, toasted

10.0 x

Maple Bacon, cooked

400.0 g

Iceberg lettuce, shredded

200.0 g
Preparation
Burger Bun

In a small pot bring water to the boil. Once boiled remove from heat and pour in milk. Then whisk in the KNORR Potato Flakes GF until combined. Allow to stand for two minutes and then whisk again. Set aside to cool.
In the bowl of a stand mixer fitted with the dough hook, add in the mash and all other ingredients. Stir until combined. Turn the mixer on medium low speed and knead until a soft yet tacky dough forms, about 5 minutes.
Place the dough in a lightly greased bowl, cover, and let rise in a warm place for 1 hour, or until it's almost doubled.
Turn the dough onto a lightly greased surface, gently deflate it, and divide it into 10 equal pieces. Roll each piece into a ball.
Place the balls on oven tray, leaving about 4 to 5 centimetres between them and flatten gently. Cover and let rise until the buns have doubled in size 45 to 60 minutes. Towards the end of the rising time, preheat the oven to 175 degree Celsius.
Bake the buns for 25 to 30 minutes, or until they're light golden brown. Remove them from the oven, and brush them with melted butter, if desired.
Transfer the buns to a rack to cool.

Braised Onions

Melt the butter in a large heavy skillet.
Add the onions and cook while stirring frequently over medium heat for 5 to 6 minutes, or until tender.
Add beer and the sugar, and cook until beer is absorbed and the onions become lightly browned, about 15 minutes.

Meat Patties

In a large bowl, gently but thoroughly combine the beef,garlic puree, onion, beer,Dijon mustard, salt and pepper.
Form into 10 patties, and place on the grill, turning heat down to medium.
Grill them for 4-6 minutes per side, or until nearly the desired doneness.
Top each burger with cheese, and heat till slightly melted.
Serve on toasted buns and top each with the beer-braised onions.

To Assemble

Take the base of the bun and add KNORR American Chipotle BBQ Sauce GFand HELLMANN'S Real Mayonnaise followed by the lettuce, tomato, patty with cheese, the maple bacon and finish with the braised onions.