Scotch Fillet, Tomato Chilli Hummus
Nothing beats a well-seasoned and cooked scotch filet so accompany it with hummus combined slaw and sweet potato fries and you have an instant hit.
Casual Dining
Beef
Steaks
Main Meals
Australian
American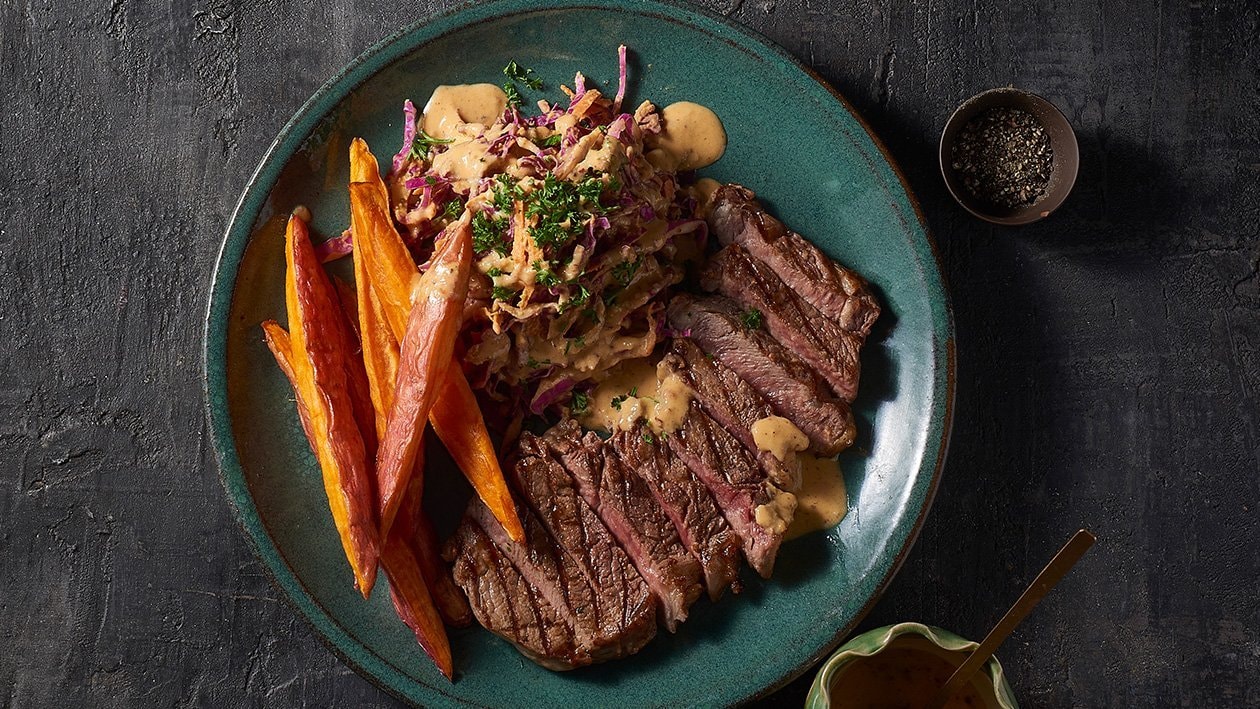 Ingredients per serve
Hummus
Cube roll / scotch fillet

2.0 kg

Dried chickpeas, soaked in water overnight

200.0 g

Bicarbonate of soda

4.0 g
Slaw
White cabbage, chiffonade

1.0 kg

Carrot, julienned

200.0 g

Spanish onion, sliced

100.0 g
Wedges
Whole sweet potatoes

1.0 kg
Preparation
Hummus

Rinse and drain chickpeas, then place in a saucepan. Cover with cold water, then stir in bicarbonate of soda; this helps soften the chickpeas. Bring to the boil over high heat, then reduce heat to medium and simmer for 50 minutes or until tender.
Drain chickpeas, reserving 125ml (1/2 cup) cooking liquid.
Cool slightly, then process in a food processor until smooth. Add tahini, KNORR American Tomato Chilli Relish GF and lemon juice, season with salt, then process until very smooth. If the hummus is too thick, add reserved cooking liquid, 1 tablespoon at a time, until it has reached the desired consistency. (Hummus thickens as it cools, so check the consistency just before serving.)

Slaw

Mix all ingredients together and use the hummus to combine.

Meat

Lightly season Steak and seal on a hot grill or pan cook until desired.

Wedges

Cut Sweet potato into desired size wedges and cook in deep fryer at 190 degree Celsius for 8 minutes or until cooked through.