COLMAN'S Wholegrain Mustard 2.2 kg/2.25 L jar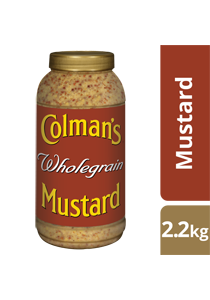 COLMAN'S Wholegrain Mustard 2.2 kg/2.25 L jar
How this product will help you
Exciting, rich, versatile flavour profile.
Made with the finest ingredients using traditional methods.
The only mustard with the Royal Seal of approval by the Queen of England in 1866.
More Product Information
Article number:

21093475

•
All product information
Benefits & Allergen Information
No Added MSG

No Artificial Flavours

Suitable for Vegetarians

No Artificial Colours
Nutrition Information
Download product information..
Typical Values
Energy, including dietary fibre (kJ)
Carbohydrate, total (g)
Sodium (mg)
Protein (g)
Cholesterol (mg)
Dietary Fibre (g)
Fat, total (g)
Saturated fatty acids, total (g)
Polyunsaturated fatty acids, total (g)
Calcium (mg)
Iron (mg)
Preformed Vitamin A (retinol) (ug)
Vitamin C (mg)