KNORR Instant Sweet Potato Mash 4 kg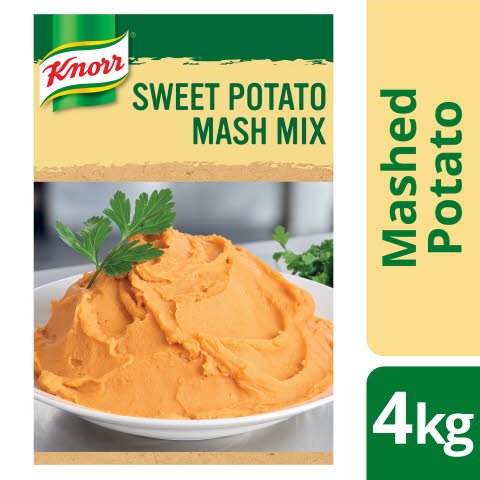 KNORR Instant Sweet Potato Mash 4 kg
KNORR Instant Sweet Potato Mash Mix creates a creamy and delicious, fresh tasting sweet mashed potato. Quick and easy to make, simply add boiling water and whisk. It is ideal served with meat, vegetable dishes and casseroles, or use as a cooking ingredient to top, coat or add extra flavour to meats. Use as a cost saver by adding volume and bulking up dishes such as soups, casseroles and curries from single to multiple portions.
More Product Information
Article number:

20233086

•
All product information
Benefits & Allergen Information
Bain Marie Stable

No Added MSG

Gluten Free
Nutrition Information
Download product information..
Typical Values
Energy, including dietary fibre (kJ)
Carbohydrate, total (g)
Sodium (mg)
Protein (g)
Cholesterol (mg)
Dietary Fibre (g)
Fat, total (g)
Saturated fatty acids, total (g)
Polyunsaturated fatty acids, total (g)
Calcium (mg)
Iron (mg)
Preformed Vitamin A (retinol) (ug)
Vitamin C (mg)