Vegetarian Falafel with Sweet Potato Mash
Flavoursome, lightly spiced falafels, served with gravy, sweet potato mash and sautéed button mushrooms is the perfect dish to delight the vegetarian palate.
Aged Care
Vegetables
Main Meals
Australian
Middle Eastern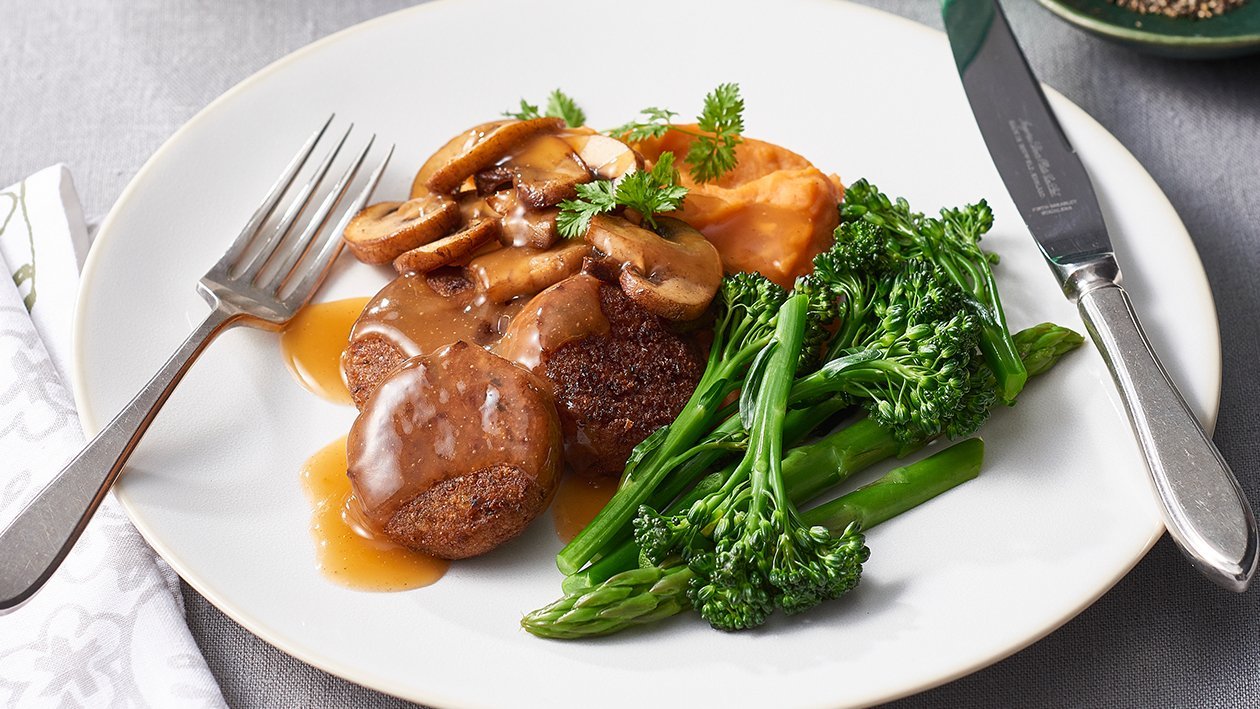 Ingredients per serve
Method
Chickpeas canned, rinsed, drained & dried

1.0 kg

Onions, medium, finely chopped

2.0 x

Parsley, finely chopped

50.0 g

Salt And Cracked Black Pepper
Preparation
Method

Place chickpeas in a blender or food processor until roughly chopped. Add onion, garlic puree, spices, parsley, flour and egg whites and season well. Process until fully combined.
Roll mixture out into small discs and chill for 30 minutes.
Heat oil in a large pan over medium heat and shallow fry the mixture discs until golden brown and crisp on the outside. Drain on paper towel. Keep warm.
Heat extra oil in a large pan over medium high heat. Add mush rooms and cook for 6-8 minutes until golden. Remove from pan and keep warm.
Bring 400ml of water to the boil in the same pan and add Knorr Golden Roast Gravy. Whisk until gravy is smooth and thickened then return mushrooms to the pan.
Bring 800ml water to the boil. Turn off heat, sprinkle in KNORR Instant Sweet Potato Mash Mix and whisk until smooth.
Divide falafels between serving plates with the sweet potato mash. Spoon over mushroom sauce.

To Serve

Serve with steamed greens.