KNORR Supreme Gravy Gluten Free 11 kg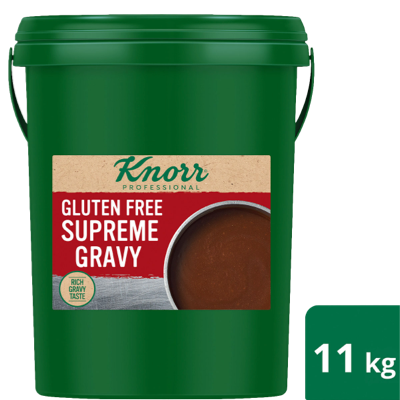 KNORR Supreme Gravy Gluten Free 11 kg
How this product will help you?
All the goodness and flavour of a rich brown gravy in a gluten free, plant-based sauce.
Deliver to increasing dietary demands without compromising on taste and quality.
Rich and Versatile taste profile to suit all dishes including plant-based options.
More Product Information
Article number:

68795730

•
All product information
Benefits & Allergen Information
KNORR Gluten Free

KNORR Cook Chill Stable

KNORR Bain Marie Stable

KNORR No Artificial Colours and Flavours

KNORR Freeze Thaw Stable

Vegan Australia Certified

KNORR Halal

KNORR No Added MSG

KNORR No Added Flavour Enhancers

KNORR No Added Preservatives
Ingredients
Thickeners (1422, 1412, corn starch), maltodextrin, salt, sugar, vegetable powders (6%) (tomato, onion, garlic, beetroot), mineral salt (potassium chloride), yeast extract, vegetable oil, burnt sugar, sprouted pea protein, natural flavours, pepper. May Contain: Milk, Soy
Nutrition Information
Download product information..
*Suitable for vegetarians who consume dairy and eggs
** Gluten Free as per FSANZ requirements
*** Contains naturally occurring glutamates