Beetroot Risotto with Labne
Light and versatile, labne is a soft Lebanese cheese made from greek yoghurt. Wrapped in muslin and strained of its whey overnight it has the perfect acidity to dollop on top of this beautiful beetroot risotto.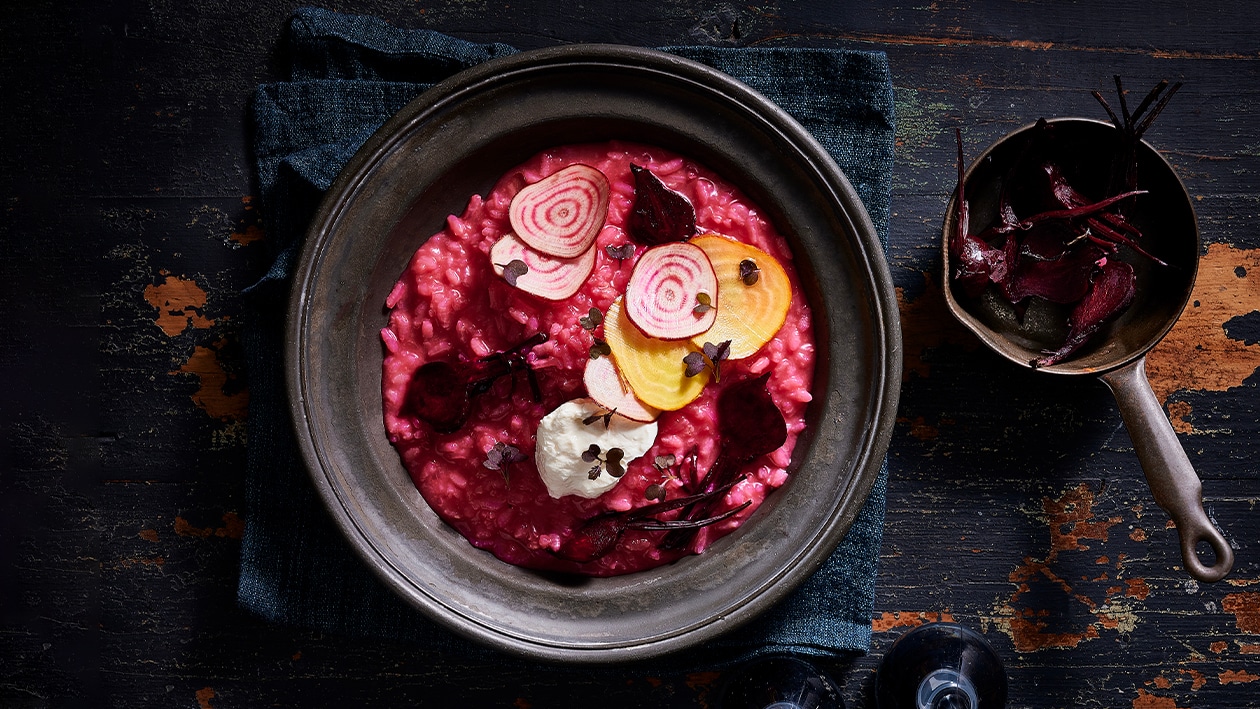 Ingredients per serve
Beetroot Risotto with Labne
Labne
Greek style yoghurt
/g
0.0 g
0%
Roasted Beetroot
Trimmed baby beetroot
/dg
0.0 dg
0%
Risotto
Cloves garlic
/x
0.0 x
0%
KNORR Vegetable Booster 2.4 kg
/cu
0.0 cu
0%
KNORR Intense Flavours Roast Umami 400 ml
/cu
0.0 cu
0%
Beetroot juice
/l
0.0 l
0%
Labne
Roasted Beetroot
Risotto
Preparation
Labne

Place yoghurt in the centre of a large length of muslin cloth. Twist ends tightly to form a ball and tie at the top. Hang muslin over a colander or sink using a large wooden spoon and drain for 24 hours. The yoghurt will drain of excess liquid and form a soft cheese.

Roasted Beetroot

Place beetroot on squares of foil and drizzle with a little oil. Wrap up and cook in combi oven at 170 degree Celsius for 30 minutes or until tender then halve or quarter. Set aside and keep warm.

Risotto

Heat oil in a large pan over medium heat. Add chopped onion, garlic and thyme and cook until onion is just tender. Add rice and stir to coat. 
Bring beetroot juice to a simmer. Combine KNORR Vegetable Booster with KNORR Intense Flavours Umami, 500 ml of boiling water and warmed beetroot juice. 
Gradually add liquid to rice, stirring between additions. Rice should be al dente with nearly all the liquid absorbed. Add extra boiling water if needed. Season.

To Serve

Stir roasted baby beetroot through risotto and serve topped with shaved heirloom beetroot, a dollop of labne and micro red mustard leaves.

Tip

Use a mandolin to shave heirloom beetroot into thin rounds to place on top of risotto.