Chicken Moghrabieh Risotto
Moghrabieh is large pearl couscous made from wheat semolina and used widely in Lebanese cooking. A great idea for an interesting twist on traditional Arborio rice-based risotto.
Casual Dining
Australian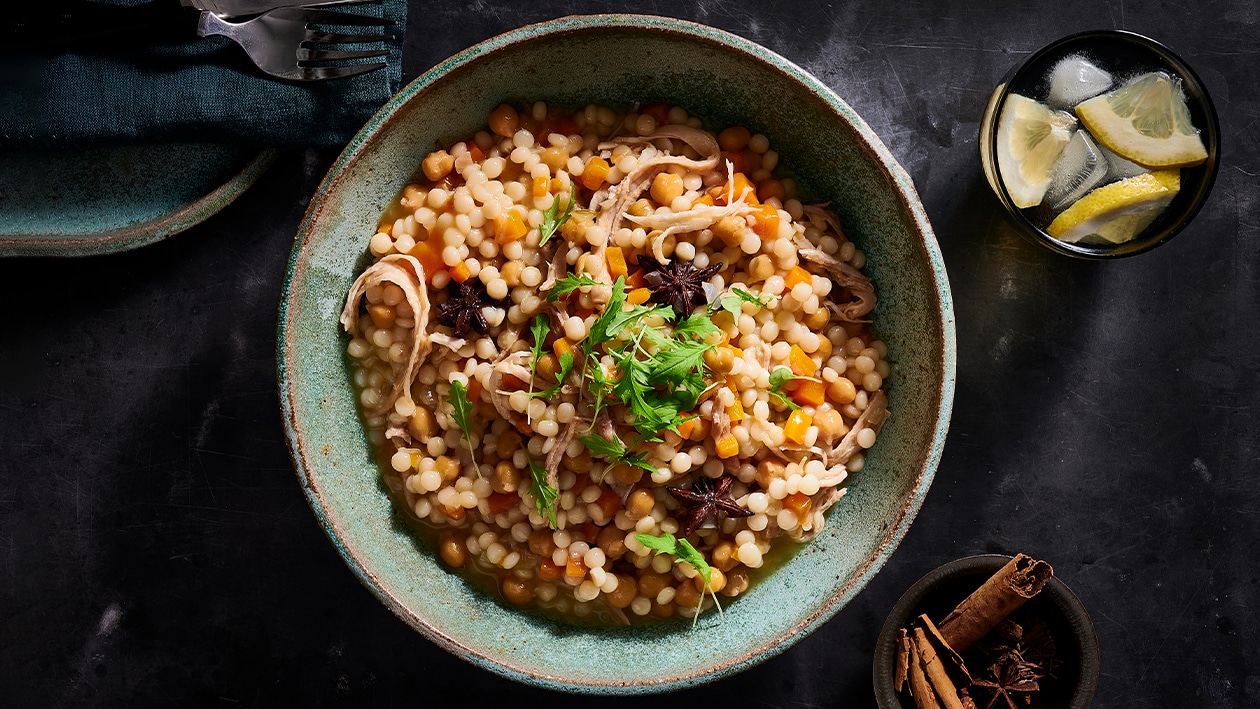 Ingredients per serve
Chicken Moghrabieh Risotto
Chicken Broth
KNORR Chicken Booster 2.4 kg
/g
100.0 g
0%
KNORR Intense Flavours Roast Umami 400 ml
/g
40.0 g
0%
Chicken thigh fillets
/g
700.0 g
0%
Moghrabih Risotto
Olive oil
/ml
100.0 ml
0%
Cloves garlic
/x
4.0 x
0%
Cinnamon quills
/x
2.0 x
0%
caraway seeds
/g
2.0 g
0%
Moghrabih (pearl cous cous)
/kg
1.0 kg
0%
Chicken Broth
Chicken thigh fillets

700.0 g
Moghrabih Risotto
Moghrabih (pearl cous cous)

1.0 kg
Preparation
Chicken Broth

Combine KNORR Chicken Booster and KNORR Intense Flavours Umami with 2 L of warm water. Bring to the boil then add chicken. Reduce heat and poach chicken until just cooked through then remove from broth and set aside. Keep broth warm.

Moghrabih Risotto

Heat oil in a large pan over medium heat. Add chopped onion, chopped carrot and garlic and cook until vegetables are just tender. Add spices and moghrabih and stir to coat and fully combine. Cook for 2-3 minutes. 
Gradually add broth to pan, stirring between additions. Moghrabih should be tender with nearly all the broth absorbed. Add extra boiling water if needed.

To Serve

Shred poached chicken and fold through risotto. Cook for another 2-3 minutes then serve garnished with micro herbs.

Tip

Moghrabih can be found at middle eastern grocery stores.