Fried Buttermilk Chicken Burger with Honey Glaze
Sweet, savoury, crunchy, & juicy. What more could you ask for? This adaptation of the classic Southern fried chicken burger has a hint of Asian flavour that sets it apart.
Casual Dining
Poultry
Main Meals
American
Burgers & Hot Dogs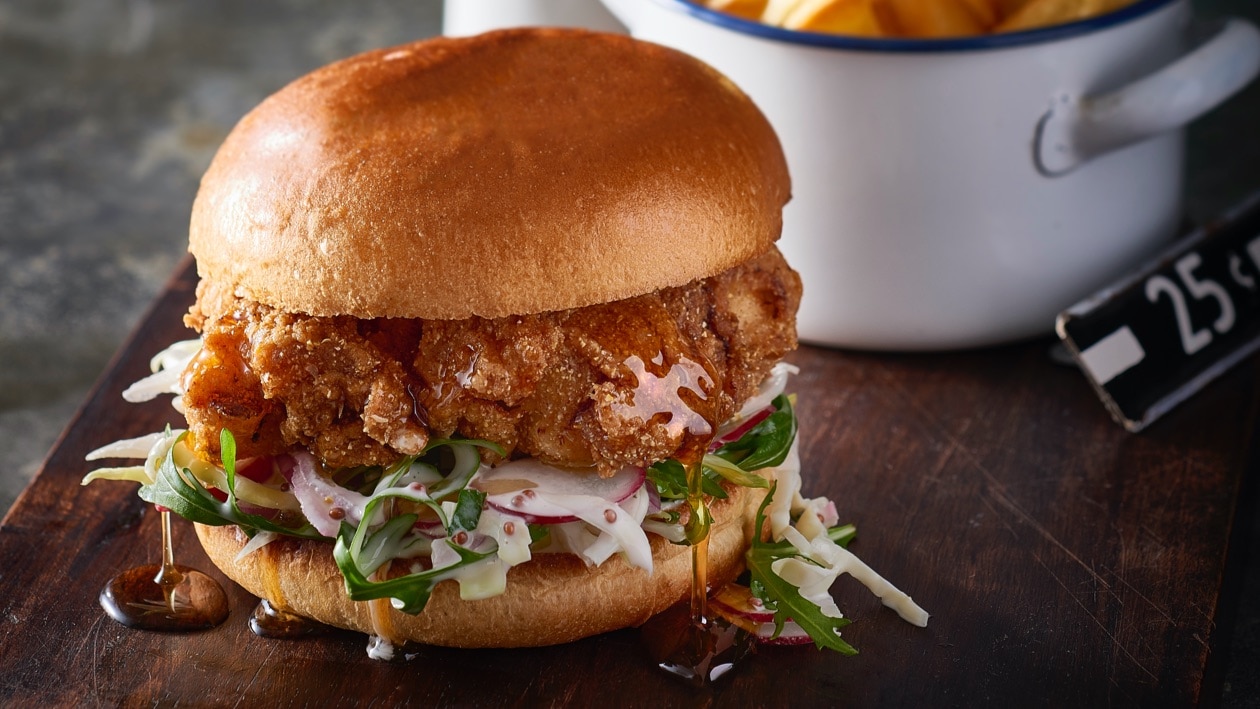 Ingredients per serve
Fried buttermilk chicken
150g Chicken thigh fillets, skinless & flattened

10.0 x

Plain flour, for dusting

300.0 g

White pepper, ground

20.0 g

Szechuan seasoning

60.0 g

Vegetable Oil, For Deep Frying
Chicken Honey Glaze
Seeded mustard dressing
Wholegrain mustard

40.0 g
Slaw
Red onions, thinly sliced

60.0 g

1/2 Bunch Continental Parsley, Roughly Chopped

Radish, thinly sliced and placed in cold water

30.0 g

Fennel, thinly sliced and placed in cold water

80.0 g

White cabbage, shredded

400.0 g
To Assemble
Milk or brioche burger buns

10.0 x
Preparation
Fried buttermilk chicken

Place the chicken thighs in a large container and pour over the buttermilk. Cover and place in the refrigerator for at least 24 hours.
Drain the chicken pieces from the buttermilk. Working in batches, toss the chicken in the polenta coating mix, making sure it is well coated. Transfer to a wire rack that has been placed over a baking tray.
Deep fry the chicken until golden brown and cooked through, then drain and sprinkle with salt.

Chicken Honey Glaze

Reduce the honey, KNORR Concentrated Liquid Stock and water in a saucepan until thickened. Remove from heat and set aside.
When still warm, place in a plastic squeeze bottle ready to use.

Seeded mustard dressing

Mix together wholegrain mustard, vinegar, HELLMANN'S Real Mayonnaise and salt. Refrigerate for use.

Slaw

Toss all the ingredients together. Fold through seeded mustard dressing.

To Assemble

Grill the burger buns, drizzle a little chicken honey glaze on the base bun, add the fried chicken, a little more of the glaze and some slaw.
Serve with chips.