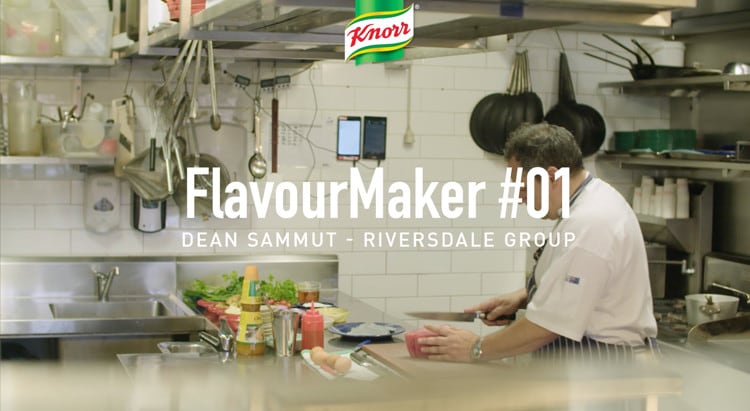 A take on traditional nicoise salad, tuna is the standout in this dish. The addition of crumbed and fried eggs & pickled tomatoes brings all the flavours to life.

INGREDIENTS
10 SERVES
2.5kg Tuna loin, cleaned and portioned
5 Celery sticks, peeled, blanched and sliced
600g Baby beans, blanched
10 Kipfler potatoes, cooked, peeled and sliced
220g HELLMANN'S Aioli Celery cress, to serve
Crumbed eggs

11 Free range eggs
120g Plain flour
10g Salt
10g Ground black pepper
220g Panko crumbs
Vegetable oil, for deep frying
Dressing

2 Eschallots, finely chopped
5g KNORR Concentrated Liquid Stock
100ml Water
10g Wholegrain mustard
100g Mixed herbs (chives, parsley, chervil), chopped
40ml Olive oil
Pickled tomatoes

Slice the tomatoes in two halves and put them in a vacuum bag together with the rice vinegar.
Seal the bag and let it marinate for at least 3 hours.
METHOD
Crumbed eggs

Soft boil the eggs, then chill and peel.
Toss the eggs in seasoned flour, then coat in crumbs.
Deep fry until golden. Cool.
Dressing
Place eschallots and 100ml pickling liquid (from pickled tomatoes) in a pan and reduce 90%.

Add water, KNORR Concentrated Liquid Stock and wholegrain mustard. Bring to the boil, then cool and emulsify with the olive oil. Add herbs and adjust seasoning if needed.
Tuna

Pan fry tuna portions until medium rare.
To serve

Smear HELLMANN'S Aioli on a serving plate. Slice tuna and cut eggs in half. Arrange with seasoned blanched vegetables and pickled tomatoes. Spoon over vinaigrette and garnish with cress.