KNORR Concentrated Liquid Stock 1 kg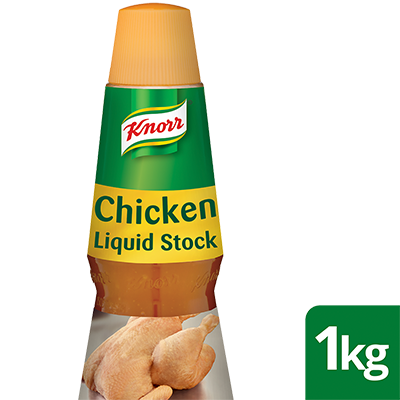 KNORR Concentrated Liquid Stock 1 kg
How this will help you
Made with chicken bones cooked for 3 hours
Brings out the flavours in a dish with less salt*
Dissolves easily in all stages of cooking
Quick and easy to use in multiple applications, hot or cold
More Product Information
Article number:

67065234

•
---
I rely on ingredients that bring a natural taste.
Add a rich chicken taste to all kinds of dishes, both hot and cold with this concentrated stock, made by cooking chicken bones.
How this will help you
Made with chicken bones cooked for 3 hours
Brings out the flavours in a dish with less salt*
Dissolves easily in all stages of cooking
Quick and easy to use in multiple applications, hot or cold
The RICH TASTE of slowly cooked chicken bones.
---
All product information
Benefits & Allergen Information
A Versatile Base For Many Dishes
Ingredients
Concentrated chicken stock [water, chicken 4.8% (extract, fat)], salt, flavour enhancers (monosodium glutamate, disodium, guanylate and disodium inosinate), sugar, flavours (contain soyabean, egg and milk derivatives), thickeners (modified corn starch, xanthan gum), yeast extract, colour (beta carotene), spice (contains soyabean).
Key product information
Description
KNORR Concentrated Liquid Stock brings a rich chicken taste to every dish it touches.
Usage information
Preparation
Applications: very versatile, it can be added to the preparation of all types of dishes, both hot and cold. Because it is liquid, it dissolves in an instant, allowing for an immediate flavour release. Use one tablespoon (10 g) per portion. Alternative usage: as a stock base, dilute 10 g of KNORR Concentrated Liquid Stock to make 250 ml (1 cup) of stock.
Yield
Serving per pack: 850 g. Serving Size: 30 g.
Benefits
Makes 25 l of flavoured liquid stock.
Storage
After opening store in a refrigerator for up to 4 weeks. Shake well before using.
Note: Please refer to product labels for the most up-to-date product information