CARTE D'OR Creme Brulee Mix 1250g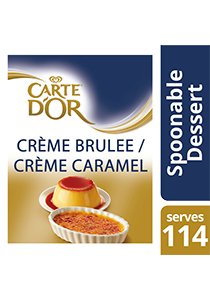 CARTE D'OR Creme Brulee Mix 1250g
A two-in-one mix that lets you create two true dessert classics. Combine with caramel sauce to create a rich Creme Caramel or top mixture with sugar and caramelise for a delectable Creme Brulee.
More Product Information
Article number:

67412012

•
All product information
Benefits & Allergen Information
No Added MSG
Nutrition Information
Download product information..
Typical Values
Energy, including dietary fibre (kJ)
Carbohydrate, total (g)
Sodium (mg)
Protein (g)
Cholesterol (mg)
Dietary Fibre (g)
Fat, total (g)
Saturated fatty acids, total (g)
Polyunsaturated fatty acids, total (g)
Calcium (mg)
Iron (mg)
Preformed Vitamin A (retinol) (ug)
Vitamin C (mg)