CONTINENTAL Professional Gluten Free Spring Vegetable Soup Mix 2kg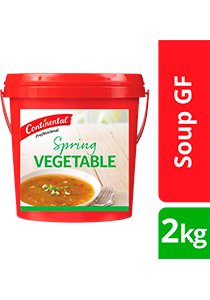 Preparation
Place the hot water in a large pot and whisk in the CONTINENTAL Soup Mix. Bring to the boil while stirring continuously, then simmer for 10 minutes. Prevent cross-contamination with gluten during preparation to ensure gluten-free meal.
Yield
Servings per package - 305. Serving size - 170 ml.
Storage
Replace lid tightly. Store in a cool, dry place. Contents may settle in transit.
Benefits
** Contains naturally occurring glutamates.
Additional Benefits
Quick and Easy To Use
Bain Marie Stable
A Versatile Base For Many Dishes
No Added MSG
Cook Chill Stable
12-24 Months Shelf Life
Gluten Free
Description
The CONTINENTAL Professional Spring Vegetable GF soup mix is made with real vegetables (onion, carrot, potato, green peas, green beans, leeks, tomato, celery, parsley). It creates a hearty and homestyle taste. Every product in the Soup range has been specifically designed for the needs of food service professionals.
Download product information..