CONTINENTAL Professional Gluten Free Thick Vegetable Soup Mix 1.9kg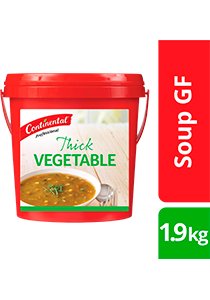 CONTINENTAL Professional Gluten Free Thick Vegetable Soup Mix 1.9kg
The CONTINENTAL Professional Thick Vegetable GF soup mix is made with real vegetables (green peas, onions, carrots, green beans, potatoes, corn, leeks, parsley, spinach). It creates a hearty and homestyle taste. Every product in the Soup range has been specifically designed for the needs of food service professionals.
More Product Information
Article number:

67357982

•
All product information
Benefits & Allergen Information
Quick and Easy To Use

Bain Marie Stable

A Versatile Base For Many Dishes

No Added MSG

Cook Chill Stable

12-24 Months Shelf Life

Gluten Free
Nutrition Information
Download product information..
Typical Values
Energy, including dietary fibre (kJ)
Carbohydrate, total (g)
Sodium (mg)
Protein (g)
Cholesterol (mg)
Dietary Fibre (g)
Fat, total (g)
Saturated fatty acids, total (g)
Polyunsaturated fatty acids, total (g)
Calcium (mg)
Iron (mg)
Preformed Vitamin A (retinol) (ug)
Vitamin C (mg)