KNORR Char Grilled Tuscan Vegetable 1.95 kg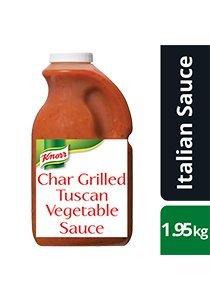 KNORR Char Grilled Tuscan Vegetable 1.95 kg
Wet cook-in vegetable sauce for pasta and as a base for a variety of dishes.
More Product Information
Article number:

21042072

•
All product information
Benefits & Allergen Information
Bain Marie Stable

No Added MSG

No Artificial Flavours

No Artificial Colours
Additional Benefits
Bain Marie Stable
No Added MSG
No Artificial Flavours
No Artificial Colours
Usage information
Preparation
Sauce can be heated on the stove, in a microwave, conventional or combination oven.
Yield
Servings per pack - 25 Servings. Serving size - 78 g.
Benefits
Sauces are easy to use as no preparation is required and no ingredients to add. Saves time and provides cost and portion control. Perfect for low skilled kitchens or for chefs who don't have time to cook from scratch. Also ideal for Chefs who want to add their own creativity. A flavour to suit every menu and taste. Consistent quality and taste every time. Bain-marie stable, perfect for long service. Re-sealable jug.
Storage
KNORR Char Grilled Tuscan Vegetable Sauce is freeze thaw stable and can be held in a bain marie for up to four hours stirring occasionally. Refrigerate after opening for up to 5 days or freeze.