LIPTON Chai Latte/Sachets 16's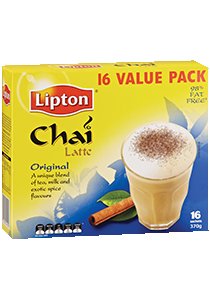 LIPTON Chai Latte/Sachets 16's
How this product will help you
LIPTON Chai Latte is a unique taste experience. It combines tea with exotic spice flavours such as cinnamon, cardamom and ginger with a delicious, creamy milk base.
Just add hot water to enjoy a frothy latte style pick-me-up.
LIPTON Chai Latte is also 98% Fat Free.
Also available in packs of 8 sachets.
More Product Information
Article number:

20210997

•
All product information
Benefits & Allergen Information
Nutrition Information
Download product information..
Typical Values
Energy, including dietary fibre (kJ)
Carbohydrate, total (g)
Sodium (mg)
Protein (g)
Cholesterol (mg)
Dietary Fibre (g)
Fat, total (g)
Saturated fatty acids, total (g)
Polyunsaturated fatty acids, total (g)
Calcium (mg)
Iron (mg)
Preformed Vitamin A (retinol) (ug)
Vitamin C (mg)
Key product information
Description
Flavoured milk tea mix.
Usage information
Preparation
Empty contents of one sachet into a 250 ml mug. Fill with boiling water and stir for 15 - 20 seconds. IMPORTANT: To ensure a smooth consistency, do not begin stirring until all the water has been poured into the mug.
Yield
Serving per package: 16. Serving size: 23 g dry contents that makes 250 ml prepared product.
Storage
Store in a cool dry place.