Gnocchi with Warrigal Greens
Native to Australia and New Zealand, warrigal greens are found around the eastern coastline and estuaries of Australia. They are a perfect substitute for spinach or silverbeet to be used in pasta sauces, stir fries and pies. Along with ingredients like lemon Myrtle, they're becoming increasingly popular and seen in native bush food style dishes on many menus.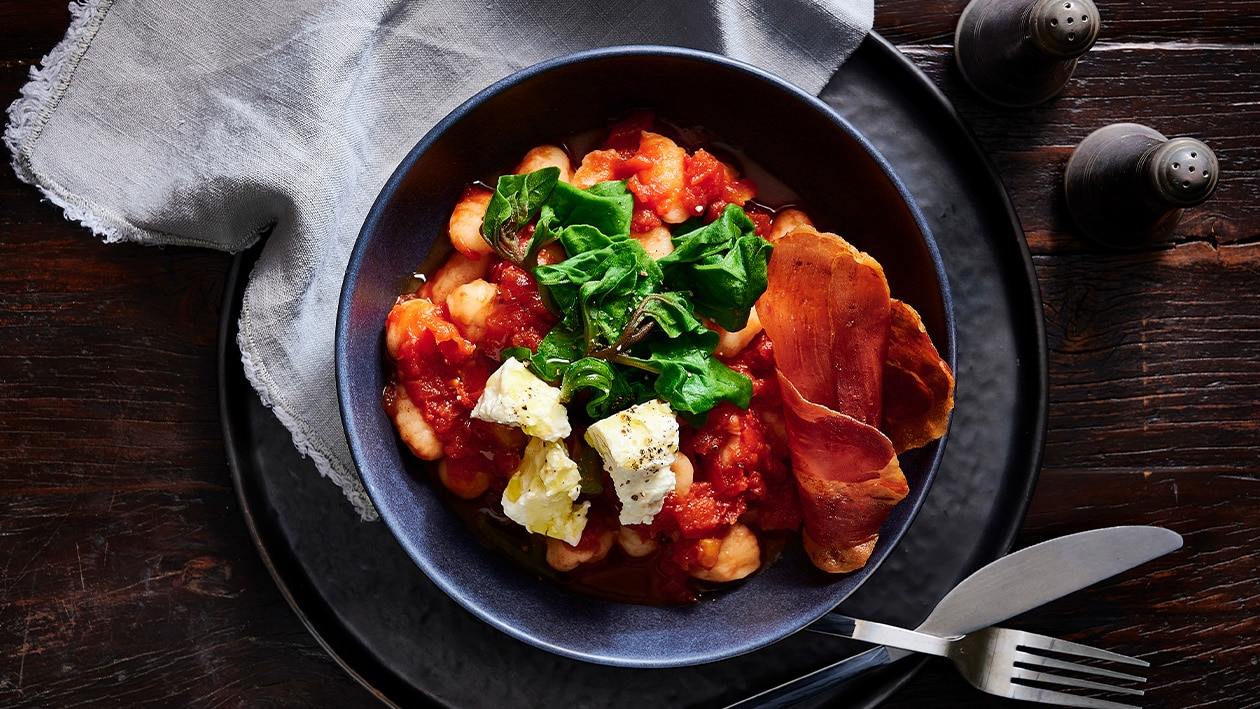 Ingredients per serve
Gnocchi with Warrigal Greens
Gnocchi
KNORR Potato Flakes GF 4kg
/g
85.0 g
0%
Plain flour
/g
300.0 g
0%
Ground lemon myrtle
/g
10.0 g
0%
Tomato Sauce
Cloves garlic
/x
4.0 x
0%
KNORR Vegetable Booster 8 kg
/g
15.0 g
0%
KNORR Italiana Pronto Napoli GF 4.15 kg
/g
700.0 g
0%
To Serve
Warrigal greens
/g
350.0 g
0%
Gnocchi
Ground lemon myrtle

10.0 g
Tomato Sauce
To Serve
Preparation
Gnocchi

In a large pot bring 370 ml of water to the boil. Once boiling remove from heat. Pour in milk before whisking in KNORR Potato Flakes GF. Whisk until combined. Sit for two minutes and then whisk again.
In a small bowl whisk the eggs and salt together.
Once the potato mash is cooled, add in the egg mix followed by sifted flour and lemon myrtle. Blend in enough flour to make a stiff dough. Turn dough out on a well-floured work surface and knead lightly.
Divide dough in half. Shape each half into a long thin roll about 1.5 cm thickness. With a knife dipped in flour, cut into bite-size pieces.
Cook gnocchi in a large pan of boiling salted water until they float to the surface then cook for a further 2-3 minutes. Drain and keep warm.

Tomato Sauce

Heat oil in a large pan. Add chopped onion and chopped garlic and cook for 5 minutes.
Mix KNORR Vegetable Booster with 500 ml of water, add to pan along with KNORR Pronto Napoli. Bring to the boil. Simmer for 15 minutes until reduced.

To Serve

Grill prosciutto until crisp and break into shards.
Blanch warrigal greens.
Toss gnocchi through tomato sauce. Serve topped with warrigal greens and prosciutto. Garnish with crumbled fetta, a drizzle of extra virgin olive oil and cracked pepper.

Tip

If warrigal greens are hard to find substitute with baby spinach leaves. Native spices such as lemon myrtle can be found in most delis or gourmet food stores.