KNORR Portuguese Peri Peri Sauce GF 1.95kg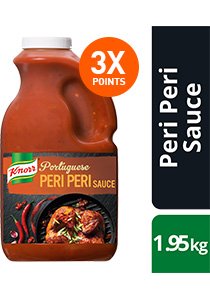 KNORR Portuguese Peri Peri Sauce GF 1.95kg
A deeply flavourful Portuguese peri-peri sauce made with Bird's Eye chillies, onions, peppers, garlic and lemons. Add the right amount of heat to burgers, wraps, sandwiches, pies, braised dishes and wedges.
More Product Information
Article number:

67668521

•
All product information
Benefits & Allergen Information
Bain Marie Stable

No Added MSG

No Artificial Flavours

Gluten Free

Freeze Thaw Stable

Suitable for Vegetarians

No Artificial Colours
Nutrition Information
Download product information..
Typical values
Energy, including dietary fibre (kJ)
Carbohydrate, total (g)
Sodium (mg)
Protein (g)
Cholesterol (mg)
Dietary Fibre (g)
Fat, total (g)
Saturated fatty acids, total (g)
Polyunsaturated fatty acids, total (g)
Calcium (mg)
Iron (mg)
Preformed Vitamin A (retinol) (ug)
Vitamin C (mg)
Additional Benefits
Bain Marie Stable
No Added MSG
No Artificial Flavours
Gluten Free
Freeze Thaw Stable
Suitable for Vegetarians
No Artificial Colours