Hi-Jack Benny
Allow this recipe to pull your tastebuds in every direction with this trending Jackfruit delight.
Casual Dining
Cafe/Takeaway
Eggs
Breakfast & Brunch
Australian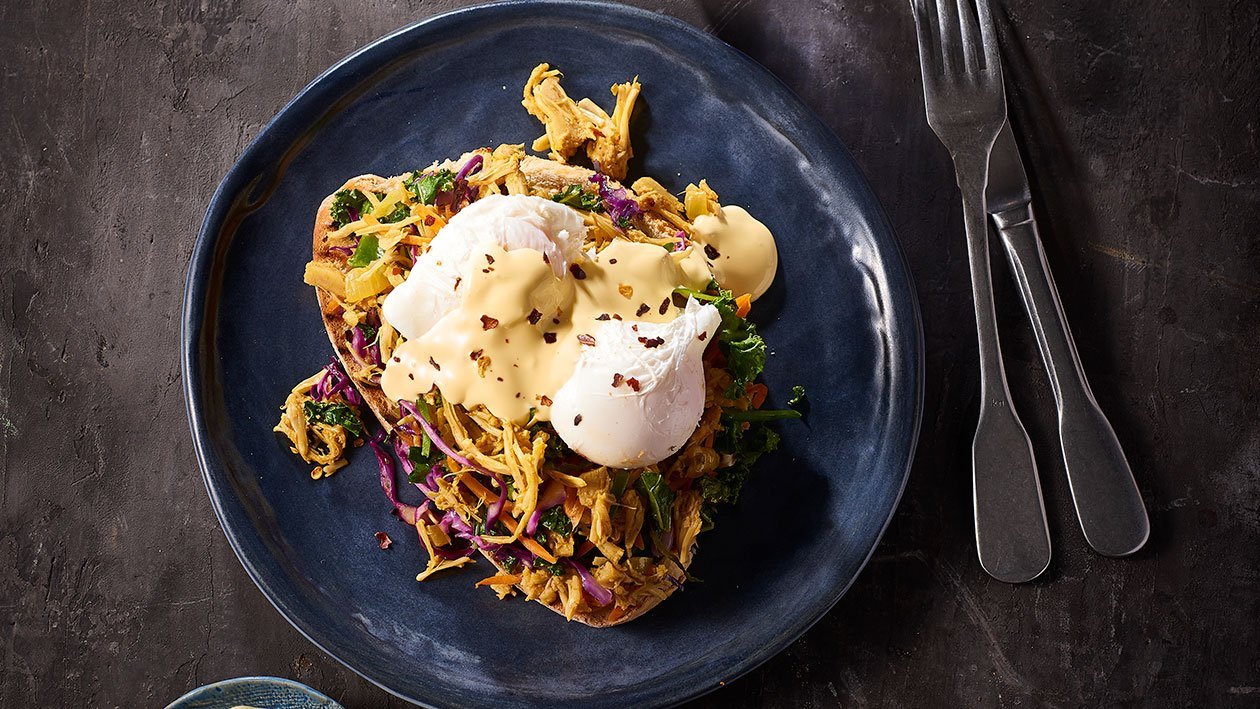 Ingredients per serve
Method
Onion, Brown, Diced

110.0 g

Jackfruit, young, canned in brine and drained

1.2 kg

Coconut oil, separated

65.0 g

Carrot, julienned

100.0 g

Snow peas, julienned

100.0 g

slices of Sourdough

10.0 x
Preparation
Method

In a large frying pan, sauté the onions in a little oil. Once soft add in the mushrooms and the drained jackfruit. Allow to colour slightly then add in the KNORR Korma Paste and fry.
Pour 1 L water into the pan and simmer for 35 minutes stirring occasionally. (top up water a little if need to)
Once jackfruit is soft, use tongs or potato masher to break up the pieces, (should resemble pulled meat texture.) Leave the mix a little wet. Set aside ready to use.
In a food processor, combine the cashew nuts and 40 g of soft coconut oil. Blitz until resembles a butter consistency.
In a small bowl whisk together, the hot water and KNORR Coconut Milk Powder.
Take a small pot and add in KNORR Hollandaise Gluten Free Sauce and the above mix. Place on low heat stirring frequently.
Fill a pot with 2 L of water, add in the white vinegar and allow to boil. Once boiling, poach your eggs until desired.
In a pan sauté the kale, cabbage, carrot and snow peas with the remaining coconut oil, salt and pepper.
Now assemble, toast the sour dough before spreading it with cashew butter, top with sautéed kale mix, pulled jack fruit, eggs and the coconut hollandaise. Garnish.