KNORR Patak's Butter Chicken Sauce 2.2 L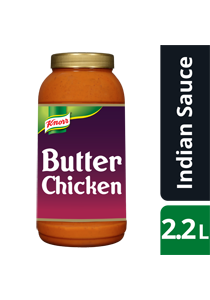 KNORR Patak's Butter Chicken Sauce 2.2 L
How this product will help you
Developed using classic Indian recipes
Mild level of heat to suit the Australian pallet
A family favourite since 1962
Made with cream and a mild blend of delicious spices
More Product Information
Article number:

61032920

•
---
Residents like trying new dishes but nothing too spicy.
How this product will help you
Developed using classic Indian recipes
Mild level of heat to suit the Australian pallet
A family favourite since 1962
Made with cream and a mild blend of delicious spices
The perfect MILD CURRY that keeps them satisfied.
---
All product information
Benefits & Allergen Information
Bain Marie Stable

No Added MSG

Suitable for Vegetarians
Nutrition Information
Download product information..
Typical Values
Energy, including dietary fibre (kJ)
Carbohydrate, total (g)
Sodium (mg)
Protein (g)
Cholesterol (mg)
Dietary Fibre (g)
Fat, total (g)
Saturated fatty acids, total (g)
Polyunsaturated fatty acids, total (g)
Calcium (mg)
Iron (mg)
Preformed Vitamin A (retinol) (ug)
Vitamin C (mg)
Key product information
Description
KNORR Patak's Butter Chicken is a rich, sweet, butter flavoured simmer sauce.
Usage information
Preparation
Due to authentic nature of this product, some oil separation may occur. We recommend that you store it well before usage.
Yield
Volume 2.2 L. Volume per serving/portion 100 ml.
Benefits
Sauces are easy to use as no preparation is required and no ingredients to add. Saves time and provides good cost and portion control. Consistent quality and taste every time. Perfect for low skilled kitchens for Chefs who don't have time to cook from scratch. Also ideal for Chefs who want to add their own creativity.
Storage
Store in a cool, dry place away from direct sunlight.

Once opened, keep refrigerated and use within 3 days, or freeze remaining contents immediately. Defrost in the refrigerator and use within 24 hours.