KNORR Italiana Napolitana Sauce GF 1.95kg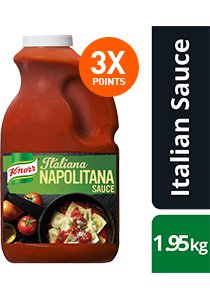 KNORR Italiana Napolitana Sauce GF 1.95kg
The base of all things Italian. Made with tomatoes, basil and onions, perfect for pasta, meatballs, pizza, grilled seafood and braised dishes.
More Product Information
Article number:

21042070

•
All product information
Benefits & Allergen Information
Bain Marie Stable

No Added MSG

No Artificial Flavours

Gluten Free

Freeze Thaw Stable

Suitable for Vegetarians

No Artificial Colours
Nutrition Information
Download product information..
Typical values
Energy, including dietary fibre (kJ)
Carbohydrate, total (g)
Sodium (mg)
Protein (g)
Cholesterol (mg)
Dietary Fibre (g)
Fat, total (g)
Saturated fatty acids, total (g)
Monounsaturated fatty acids, total (g)
Polyunsaturated fatty acids, total (g)
Calcium (mg)
Iron (mg)
Preformed Vitamin A (retinol) (ug)
Vitamin C (mg)
Additional Benefits
Bain Marie Stable
No Added MSG
No Artificial Flavours
Gluten Free
Freeze Thaw Stable
Suitable for Vegetarians
No Artificial Colours