KNORR Malaysian Satay Sauce GF 2kg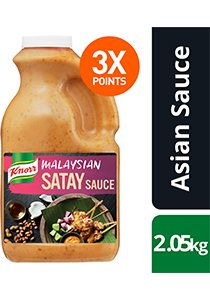 KNORR Malaysian Satay Sauce GF 2kg
A peanut and coconut milk-based sauce that's synonymous with Malaysian cuisine, satay sauce can be used for a variety of purposes. From a sauce for chicken or beef, to an Asian salad dressing, dip or marinade for grilled chicken or tofu, the possibilities are endless.
More Product Information
Article number:

67631103

•
All product information
Benefits & Allergen Information
Bain Marie Stable

No Added MSG

No Artificial Flavours

Gluten Free

Freeze Thaw Stable

Suitable for Vegetarians
Nutrition Information
Download product information..
Typical values
Energy, including dietary fibre (kJ)
Carbohydrate, total (g)
Sodium (mg)
Protein (g)
Cholesterol (mg)
Dietary Fibre (g)
Fat, total (g)
Saturated fatty acids, total (g)
Polyunsaturated fatty acids, total (g)
Calcium (mg)
Iron (mg)
Preformed Vitamin A (retinol) (ug)
Vitamin C (mg)
Additional Benefits
Bain Marie Stable
No Added MSG
No Artificial Flavours
Gluten Free
Freeze Thaw Stable
Suitable for Vegetarians