Posted on Tuesday, 22ⁿᵈ August, 2023
Oktoberfest stems from Germany, where it has been celebrated for over 200 years. Its origins date back to the wedding celebration of Bavaria's Crown Prince Ludwig and Princess Therese of Saxony-Hildburghausen. The original party lasted for days, and so does the modern version.
Oktoberfest typically runs from mid-late September to around the first Sunday in October. Plan your Oktoberfest event any time during this period or as a special lunch, dinner, or afternoon tea menu to mark the occasion.
Embracing the Oktoberfest spirit
While drinking beer is perceived as the central activity, Oktoberfest is also about good food, music, traditional costumes, and community. The hallmark dirndl dresses, lederhosen (leather pants), and blue and white checked linen are an instant reminder of the occasion.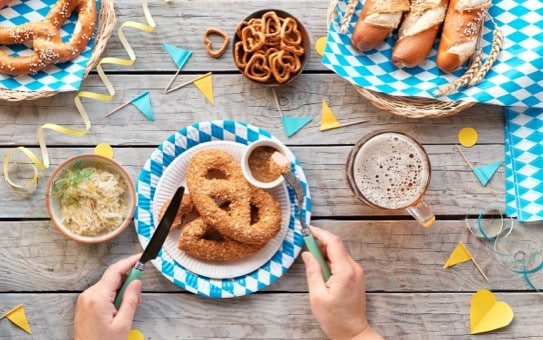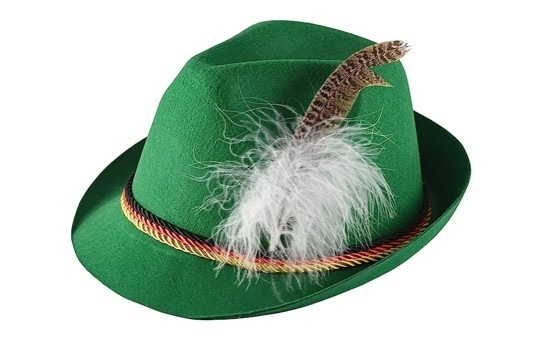 When hosting your own Oktoberfest, find German-themed bunting and tablecloths, and see if you can get your hands on some Bavarian-style hats.
Play some traditional Oktoberfest-inspired music to get everyone into the spirit.

Don't forget to find out if you have residents with Bavarian heritage. There are many first- and second-generation Germans and Austrians among our senior population but be careful not to confuse the two countries!

Guten Appetit! What to serve at Oktoberfest
The culinary highlights of Oktoberfest are hearty and delicious. Popular cuisine includes pork knuckles, schnitzel, sausage (aka 'wurst'), and thick, doughy pretzels. There is a German-style 'spaetzle', which is pasta made from egg noodles, while favourite desserts include apple strudel, cheesecake, and trifle. 
When serving food, consider residents who need texture-modified dishes or who do not eat pork (a German-style vegetable soup is an option). You might also decide to swap the larger pretzels for the smaller, crunchier supermarket versions, as the big ones can be difficult to digest.

Be inspired with our selection of 5 delicious German-inspired recipes:
Oktoberfest is also known as 'the beer festival' in Germany, so where appropriate, you can offer beer as a beverage. With so many zero-alcohol beer options now available, everyone can get into the spirit of the festival without the side effects!
Oktoberfest activities for seniors
Once you have your musical playlist ready to go, those who are able to participate may enjoy some folk dancing to celebrate the occasion.
Other activities include gingerbread decorating (this can be fun if family members and children are invited), cheese tasting, or trivia.
If you have a local German Club in your area, the members may be able to arrange a song or dance performance for your residents.
Prost! (that means Cheers)
Oktoberfest is a light-hearted celebration and is non-denominational, so everyone can enjoy it. It is a lovely way to mark the arrival of spring and to bring some energy and fun to your facility. For a larger celebration, invite family and friends to join in.

Download free Oktoberfest menu template and table talker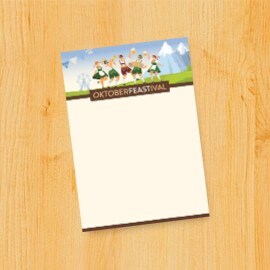 Menu Template
Raise your steins and enjoy the festive spirit of Oktoberfest with these specially crafted menu templates that will transport your residents to the heart of Bavaria. Prosit!
Download now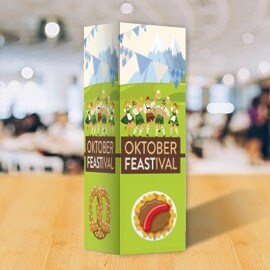 Table Talker
Spark conversations and immerse your residents in the rich traditions of Oktoberfest with these vibrant table talkers, designed to capture the essence of the Bavarian celebration.
Download now