Updated on Wednesday, 8th march, 2023
Curry Nights have become a mainstay of entertaining ideas with the highlight being everyone brings a different curry and the host cooks up some big pots of rice. Friends and family come and share food, stories, and laughter and the evening becomes an occasion to remember.
A Curry Night will translate perfectly into your Aged Care facility. We have collected ideas to help you put on a fun Curry Night for your residents.
There are two vital ingredients for a memorable Curry Night. The first is the food. The second is colour. And at a true Indian Feast, you cannot have too much of either.

There is literally no way for your decorations to be 'too much'! Bunting, bright fabric draped across windows, the only limit is your imagination and your resources.

Cover your tables with warm-coloured tablecloths made of fabric or paper. Place a table talker in the centre to set the mood for the curry evening.

Place large bunches of flowers around the dining room and wrap plain vases in strips of rich patterned fabric or paper. Avoid the expense of cut flowers by using flowers from your own grounds or by making them from paper. These can be made ahead of time by your more crafty residents using tissue paper.  They can then be reused for other event ideas such as Melbourne Cup or Mother's Day.

Indian music can be found on Spotify Youtube and iTunes, from Talvin Singh to Anoushka Shankar there is no end of music to create a playlist of background music to add to the atmosphere.

While donning a sari might be a challenge for anyone not accustomed to this style of dress, it is inexpensive and easy to give each resident a bindi and even a little extra make up if you have someone on staff who has experience. Some decorative head-scarves and shawls can be used as part of a photo-booth so you can capture the fun of the evening.

One of the advantages of holding a curry night is being able to give your residents a range of dishes to try. From tried and true favourites to some more adventurous variations of flavour.
Indian food has been influenced and has influenced the flavours and style of foods of their neighbouring countries, so don't feel bound to only traditional Indian Curries. Include dishes such as Laksas and stir-fries to add to the feast.
You can also explore different rice varieties, from basic white rice, to fragrant basmati, turmeric-infused brown rice, and rice cooked in coconut milk.  Add some baskets of warm naan and dishes of chutneys, desiccated coconut and sliced banana so people can customise their meals as they please.
Some like it hot, and some...not.

Indian and the surrounding areas are well known for the high levels of spiciness in their food. This, however, might not be to everyone's taste. The level of spices you use will depend on how well you know the tastes of your residents.

Serve curries buffet style so residents can choose which different dishes they would like to try, and so they can come back to try something new or refill a favourite. This will encourage people to talk about their food and maybe try something new.

For residents who require a texture modified diet, curries can be adapted using the IDDSI levels to suit.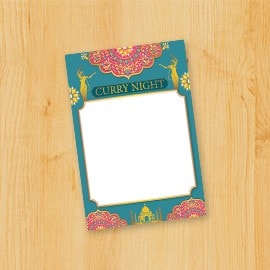 Menu Template
Highlight the delicious selection of dishes at your Curry Night with this colourful Menu Template.
Download now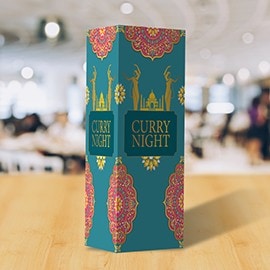 Table Talker
Use these decorative table talkers to add to the colourful atmosphere of your Curry Night event.
Download now