With an appetite for authentic, sustainable food experiences and an increasing desire to experiment with new tastes and trends, diners are changing. Keeping up is what keeps you ahead. Introducing Knorr Professional, a new generation of Knorr that champions better ways to cook and aims to build an ever-deepening connection with Chefs.
Knorr exists to serve Chefs and help deliver on-trend, tasty and nutritious meals. It's been that way since 1838, when Carl Heinrich Knorr embarked upon a mission to bring more flavoursome food to our tables.
Today, Knorr is one of the world's biggest foodie brands. Available in over 80 countries, we're dedicated to creating ingredients that save time in the kitchen without compromising on flavour or flair.

Here in Australia and New Zealand, we're proud of our single-minded focus on Chefs. The launch of Knorr Professional represents our commitment to continuously evolve to stay relevant and ahead with Chefs, with the ultimate goal of championing better, more diverse ways to cook, for a better future.
The professional choice
Put simply, Knorr Professional is a brand for you, the Chef.
Unlike other brands that focus on the home cook, Knorr is fully committed to supporting commercial kitchens.
"All our products are designed exclusively for Chefs, so cannot be purchased in retail," explains Andrew Ballard, Executive Chef Australasia with Unilever Food Solutions ANZ.


Ballard says Knorr Professional products are co-created with Chefs, which, he believes gives Knorr the edge in developing market leading sauces, seasonings and gravies.
"To have these products exclusively available to Chefs and made to a more premium standard is very advantageous," he says.

Backed by a team of 300 Chefs – including more than a dozen here in Australia and New Zealand – Knorr Professional helps Chefs create delicious dishes through authentic flavours and ingredients.

And excitingly, new, on-trend ingredients and innovative formats that are designed with local Chefs' needs in mind, are on their way.
Innovation and inspiration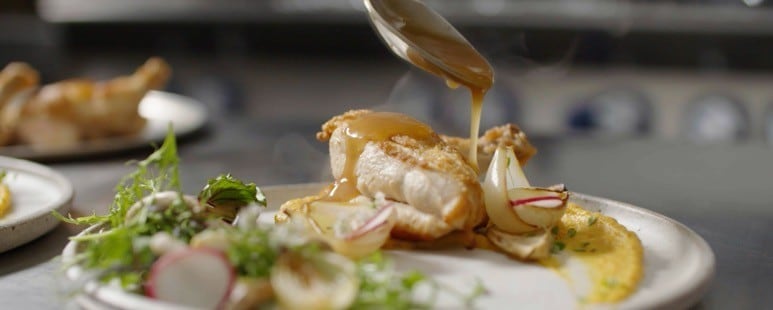 Knorr's classic range, including sauces and boosters that are already a reliable kitchen staple, will continue to be reinvigorated to offer Chefs more freedom than ever before, by tackling head-on the growing movement towards cleaner, healthier eating. 
We are also working on bringing to market new, innovative, closer-to-scratch cooking ingredients that inspire culinary creativity. And not forgetting our strong, established range of Knorr world cuisine ingredients, to help Chefs meet the increasing demand for interesting dishes with authentic global flavours.

Knorr Professional offers ideas and information to up-skill Chefs and keep them up to date in a fast changing industry. Ballard says this include diner trend forecasts, know-how on cooking techniques, menu development ideas and more.

Knorr has always supported Chefs with ingredients at the heart of the kitchen that help them deliver modern, tasty and nutritious meals with maximum efficiency.
And now with Knorr Professional, our commitment to helping Chefs succeed is greater than ever before.