KNORR Italian Glaze with Balsamic 500 g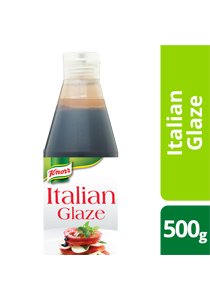 KNORR Italian Glaze with Balsamic 500 g
KNORR Italian Glaze is a thick, rich syrup made with grape must and Balsamic Vinegar of Modena. This intense, sweet and tangy glaze highlights the flavour of a multitude of dishes.
More Product Information
Article number:

20215866

•
All product information
Benefits & Allergen Information
No Added MSG

No Artificial Flavours

No Added Sugar

Suitable for Vegetarians
Nutrition Information
Download product information..
Typical Values
Energy, including dietary fibre (kJ)
Carbohydrate, total (g)
Sodium (mg)
Protein (g)
Cholesterol (mg)
Dietary Fibre (g)
Fat, total (g)
Saturated fatty acids, total (g)
Polyunsaturated fatty acids, total (g)
Calcium (mg)
Iron (mg)
Preformed Vitamin A (retinol) (ug)
Vitamin C (mg)