Malaysian Cuisine is the ultimate border hopper with Thai, Indian, Chinese, British, Dutch and Portuguese influences. Malaysian cuisine also includes 'Nonya', which is a blend of Chinese, Indian and indigenous Malay styles.
Rice is the staple, backed up by bangin' spices – ginger and pepper for heat along with cloves, nutmeg and mace, lemongrass, chilli and galangal. And yes, it's all about balance. Crunchy & soft, bitter & sweet, sour& salty… all resulting in complex, finger-licking-good flavour. It's no wonder Malays eat with their hands.


A fresh, flavour-rich salad with Hellmann's Ranch Dressing and KNORR Malaysian Satay Sauce dressing. This
salad pairs the saltiness from the Prosciutto with crunch from the peanuts to perfectly complement the
sweet taste of fresh prawns.


A veggie take on a favourite Malaysian street food. Grilled veggie skewers, with KNORR Satay Sauce slathered
all over them gives this dish a sweet, creamy twist.  The Thai Sweet Chilli Jam adds extra complexity to the
flavours of the dish.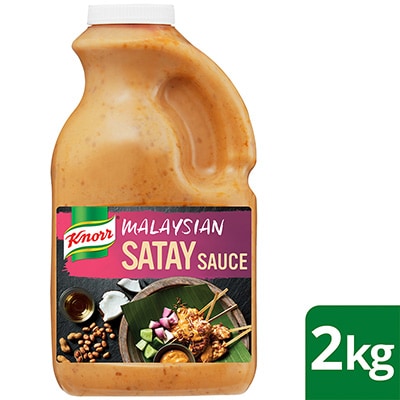 A versatile peanut & coconut milk-based sauce that's synonymous with Malaysian cuisine. From a sauce for meat to dressing the possibilities are endless.
Find out more