KNORR Golden Roast Gravy Gluten Free 1.8kg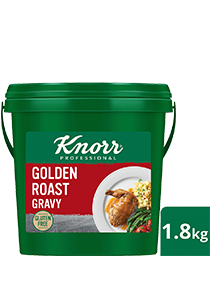 KNORR Golden Roast Gravy Gluten Free 1.8kg
How this product will help you
A gluten free, golden gravy with a balanced and versatile taste profile for flexibility in a wide variety of dishes including roasts, white meats and plant-based dishes.
Delivers a beautiful sheer, golden colour and texture that enhances dish appeal.
Especially suitable for modern, light palates as well as vegetarians.
More Product Information
Article number:

67919326

•
All product information
Benefits & Allergen Information
KNORR Gluten Free

KNORR Cook Chill Stable

KNORR Bain Marie Stable

KNORR Freeze Thaw Stable

Suitable for Vegetarians
Nutrition Information
Download product information..
Typical Values
Energy, including dietary fibre (kJ)
Carbohydrate, total (g)
Sodium (mg)
Protein (g)
Cholesterol (mg)
Dietary Fibre (g)
Fat, total (g)
Saturated fatty acids, total (g)
Polyunsaturated fatty acids, total (g)
Calcium (mg)
Iron (mg)
Preformed Vitamin A (retinol) (ug)
Vitamin C (mg)
Suitable for vegetarians who consume dairy and egg.