To continue the Australian awareness campaign for the International Dysphagia Diet Standardisation Initiative (IDDSI), the organization has detailed practical ways in which the standards can be implemented and maintained within a kitchen environment.
Importantly for Aged Care, the standardization tests have been designed to be simple to perform, and repeat. With many instances of texture modification required as well as the constant monitoring of residents' needs, the tests can be performed by anyone serving residents, from kitchen help, to clinical staff.

Recently Dr. Julie Chichero, the co-chair of IDDSI in Australia, presented the IDDSI Gravity Flow Test for Liquid Levels 1-4.

These standards are replacing the current Standards for Australian Texture Modified Foods and will ensure consistency across clinical and food service in relation to drink consistency. 

What Aged Care Chefs need to know
Equipment required

Part of the initiative has been about the emphasis on the simplicity and accessibility of the required tests. By keeping equipment as simple and as available as possible, and by not requiring specific special skills, Aged Care Chefs and their staff are able to seamlessly implement the tests into their routine.

The IDDSI flow test classifies levels 1-4 based on their rate of flow.
You will need:
A syringe (without needle) 
A method of timing such as a stopwatch on a phone
Gravity!
How to test:
To view the instructions on how to test liquids under the new standards, the IDDSI website has a comprehensive resource section.
To see how to test for each level, view this video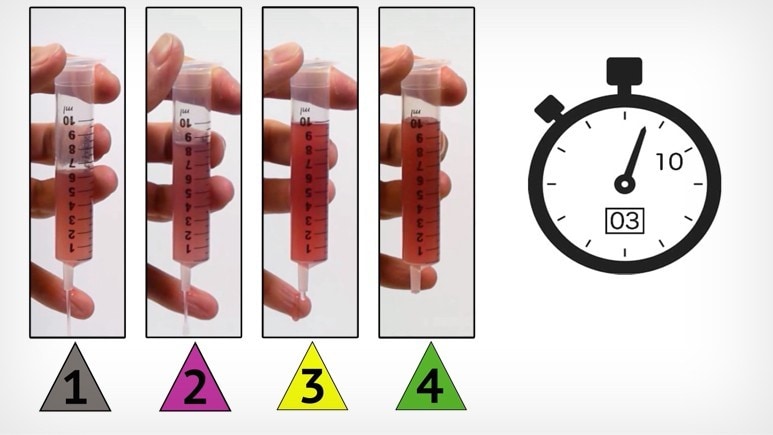 Flow test instructional poster
This can be printed, laminated and placed in your kitchen area for easy reference by everyone on your team.
IDDSI recommend liquids are tested at least twice to confirm consistency.

Important Testing Parameters

IDDSI recommends that all food and liquids be tested at the temperature of intended use. That is, if the drink is to be consumed chilled, then the flow test is to be done at the chilled temperature. If the drink is consumed at room temperature, then it is to be tested at room temperature. 
It was noted that the change in temperature inside a person's mouth is negligible in terms of flow testing as the time it takes to swallow is too short to significantly affect the consistency of the liquid.

In our next IDDSI article we will be detailing texture modification and the new standards for foods.