IDDSI - Levels 4 & 5 Spotlight
Posted on Tuesday, 20ᵗʰ June, 2023

Unilever Food Solutions recently attended an Oscar Care webinar about texture-modified food and IDDSI for Aged Care Chefs.

IDDSI was implemented in Australia in May of 2019, and Aged Care organisations have been integrating the IDDSI levels and testing methods accordingly.

One of the more challenging areas of texture modification identified in the webinar is the transition between Level 5 (minced and moist) and Level 4 (pureed).

In some instances, people on Level 5 are served Level 4 food with significant impact. The reasons why the incorrect level is served are often simple to remedy and fall into one of the three following reasons:
Lack of correct equipment for Level 5 modification
Lack of understanding how to use equipment
Lack of education on why it is important to serve food at the right level
What are the key differences between Level 5 and Level 4?
Level 5 - minced and moist is for those who are experiencing swallowing difficulties due to dysphagia or oral issues. A level 5 diet is sometimes prescribed to someone who is usually on a Level 6 (soft and bite-sized) diet when they have a temporary setback such as a dental or oral issue or an illness that impacts their swallowing ability. Once they are back in good health, they can then manage a Level 6 diet again.

For those who are more permanently on a Level 5 diet, minced and moist food will:
retain flavour
retain texture expected of the food type
present attractively
be aromatic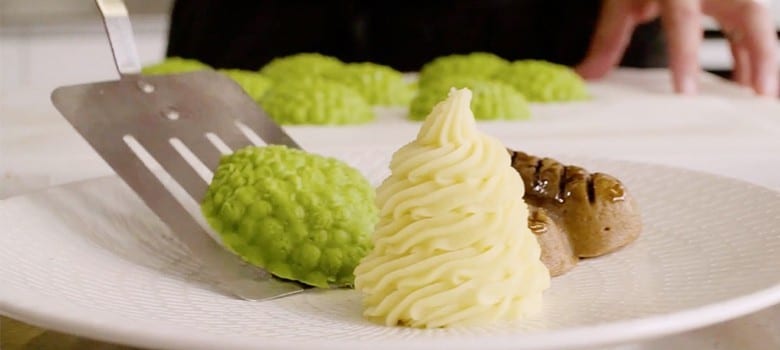 Level 4 - pureed food diets are suited to people who have pronounced swallowing difficulties as a result of conditions such as dysphagia.

Level 4 foods present challenges for chefs to:
Why is getting this right so important?
For people who experience swallowing difficulties, mealtimes can become stressful. Stress can reduce appetite and affect digestion, meaning less food is eaten, which then results in poor health.

The transition from Level 5 to Level 4 is significant for several reasons.
The additional food processing required to achieve Level 4 means that the structure of the food is broken down so much that it begins to lose taste, smell, and colour. Serving a meal at Level 4, which stimulates appetite via the key senses, requires skill.
Due to the change in the fundamental aspects of food enjoyment, people don't see mealtimes as enjoyable and therefore tend to eat less.
When pureed meals are served to those who are prescribed a minced and moist diet, interest in food can drop and it can impact their overall health. So it is important for people to receive food at the right texture modification.
It is also important to understand that serving Level 4 is not necessarily 'safer' than serving Level 5. Each level is prescribed specifically for the needs of an individual.
Aged Care Chefs are the first to notice a change in the eating habits of a resident simply by observing what comes back on the plate. Making sure everyone on the care team is monitoring a resident's condition will help ensure they are always receiving correctly modified food.
What your kitchen can do
Do an equipment audit and make sure your facility has the correct equipment to produce food at all required texture levels

Educate everyone on your team about the importance of making sure every resident receives the correct food — every meal

Advocate for regular professional development for your team to stay up-to-date with IDDSI skills

Liaise regularly with clinical staff with updates about changes in residents' eating habits.
Oscar Care is running IDDSI training sessions for Aged Care Food Service and Support – find out more here.

To learn more about IDDSI, check out our dedicated IDDSI page here.