Calcium is essential for building and maintaining bones¹ (source: Osteoporosis Australia). Calcium is found in a variety of foods with the best sources being dairy such as milk, yoghurt and cheese. Non-dairy sources include soft edible bones in canned fish (e.g. sardines), leafy dark green vegetables, soy products, and milk alternatives fortified with calcium.
It is especially important for older people to consume enough calcium to help keep their bones healthy. As people age, their calcium needs increase. This means the recommended daily intake of calcium for older people is slightly higher than the average adult (1300mg/day for men 70+ and women 51+)² (source: NHMRC, Nutrient Reference Values).

When developing recipes for Aged Care residents, it's important to include calcium rich dairy ingredients such as milk, ricotta cheese, yoghurt and evaporated milk to help those residents meet their recommended serves of dairy and ensure their daily calcium requirements are met.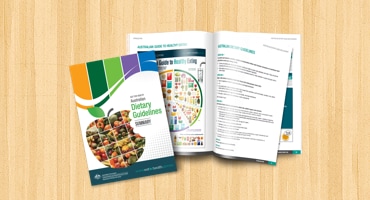 The Australian Dietary Guidelines³ recommends older women (over 70 years) eat four serves and older men eat 3.5 serves of milk, yoghurt, cheese and alternatives every day to get enough calcium.

The below table is taken from the Australian Dietary Guidelines 2013 - recommended number of serves for each food group.


How much is equivalent to a single serve of dairy?

The Australian Dietary Guidelines describes a serve as:

1 cup (250ml) of milk
2 slices (40g) hard cheese (such as cheddar cheese)
¾ cup (200g) yoghurt
½ cup (120g) ricotta
½ cup (120ml) evaporated milk
1 cup custard
For non-dairy alternatives sources of calcium, try the following plant-based foods:

Calcium-fortified soy, rice or other cereal drinks
Firm tofu
Tahini (sesame seed paste)
Dark green leafy vegetables such as broccoli, bok-choy and kale.
When developing menus for Aged Care residents, the Central Coast Local Health District (CCLHD)⁴ offers several simple tips to support a resident's calcium intake in the 'Best Practice Food and Nutrition Manual for Aged Care, Edition 2, CCLHD 2015' to help meet the recommended requirements every day. Often residents may eat half serves (one piece of cheese) at a time, so will need 7-8 half servings to meet the guidelines.

These recommendations include*:

Offer a tub of yoghurt and a piece of cheese to a continental-style breakfast
At morning or afternoon tea, serve cheese and crackers or cheese scones
Blend seasonal fruits with yoghurt, ice cream and milk for a delicious smoothie
For a lighter meal, offer creamy soups, cheese sandwiches, or a quiche with extra cheese
Add a healthy serve of green leafy vegetables to dishes
Always use full-cream milk. Drinks, desserts and dishes like casseroles, mornay, soups, purees and sauces should be fortified with full-cream milk or milk powder where appropriate
Make a white sauce using full cream milk or milk powder for winter vegetables such as cauliflower
Add a dollop of natural yoghurt on curries or jacket potatoes
Offer calcium-rich, milk-based desserts (such as baked custard, junket, mousse or cheesecake) twice a day
If a dessert is low in calcium (such as jelly or fruit salad) add 125ml (½ cup) custard, ice cream or yoghurt
Offer a glass of milk (250ml) or milk-based drinks with all main meals and mid-meals