Updated on Thursday, 30ᵗʰ April, 2020
A level 6 diet is prescribed to people who have dental issues that lead to a decline in their ability to chew food properly. Thereby, increasing the risk of choking.
Size and Softness are two tests used to determine the food level.
To qualify as a level 6, the food needs to be no more than 1.5cm by 1.5cm & must be soft enough to be cut with the side of a regular fork.
Level 7 foods are the last level defined by the standards and it covers all food textures.

Level 6 is the IDDSI replacement for the old Texture A, soft standard. 
It can be recommended for people who may have dental issues such as missing teeth (in particular molars), ill-fitting dentures, or dental disease, as well as those with dysphagia. All of these dental issues can reduce the bite force of a person's mouth, which means their ability to chew food properly is reduced and the risk of choking increases.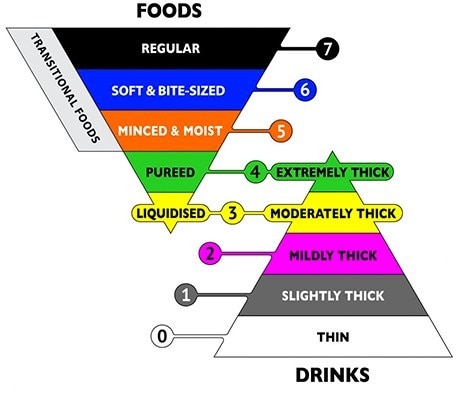 Level 6 has two testing methods. In order to determine the level, both tests must be executed.
Size

Food needs to be a maximum of 1.5cm by 1.5cm, which constitutes a 'bite-size'.
Softness

The second is the softness of the bite-sized food. Using a regular kitchen fork the food should easily be cut with the side of the fork. 
Using the fork pressure test, the food should also mush through the prongs of the fork. Using your thumb to push the fork down, the thumbnail should turn white with the pressure. The food should fall apart, and not just get squashed flat.
Important points for Aged Care Chefs

As with all the other levels, all testing must be done at the temperature the food is to be eaten at. 
Level 6 foods can be combined with softer foods and purees. For example, a stew would have some Level 6 meats and vegetables mixed with sauces, which are of a softer, smoother consistency. 

Please be aware that sandwiches and breads are not acceptable on a Level 6 diet. Because not all breads are equal, it is difficult to regulate the crumb size, softness and crust hardness. More information about minced and moist sandwiches here.
Level 7 is the last level defined by the standards, it is for people with no increased risk of choking. There are two sections under Level 7:

Level 7 Regular: It covers all food textures and covers food that people with no chewing or swallowing issues eat. 

Level 7 Regular Easy to Chew: This is a subsection under level 7 and is defined as tender food without particle size restrictions. The food should be tender enough that it can be broken apart with the side of a spoon or a fork. 

IDDSI will be releasing more information about Level 7 in future. For more information go to IDDSI.org.

This is the final article in this series. Globally the standards will be officially in place in May 2019. 
Additional Resources

The IDDSI website resource section has a comprehensive library of resources for Aged Care Chefs to assist with the changeover to the new standards.
IDDSI App

Get the IDDSI App on App Store and Google Play.
Audit Sheets
What other Aged Care Chefs are doing
Preston Walker and James Ball, two Aged Care Chefs from Oak House Kitchen in the UK share some tips on how they are implementing the new IDDSI standards.