Updated on Tuesday, 8ᵗʰ September, 2020
We have always believed it's the little things that make a big difference – especially when it comes to sandwiches! And that's why we are introducing you to the Hellmann's Deli Mayonnaise. A delicious mayo that will help you to deliver the BEST tasting sandwiches for your diners, AND at an affordable price.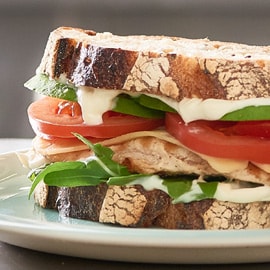 The Hellmann's difference
Consistent sweet and tangy taste in every bite at an affordable price 
With a rich and creamy texture, this allows you to spread your mayonnaise further 
Keeps sandwiches fresher for longer 
Provides moisture barrier for breads and fillings 
Here's how Chefs at Kartel use Hellmann's Deli Mayo

A fresh take on the good old chicken and mayo sandwich, the chilli sesame bahn mi with a little twist. Watch now.

Mayonnaise dishes that have stood the test of time

Know why Hellmann's Deli Mayonnaise became the gold standard in dishes like the Waldorf salad, Devilled eggs and Salad dressings.